Paperless Onboarding Now Available in Canada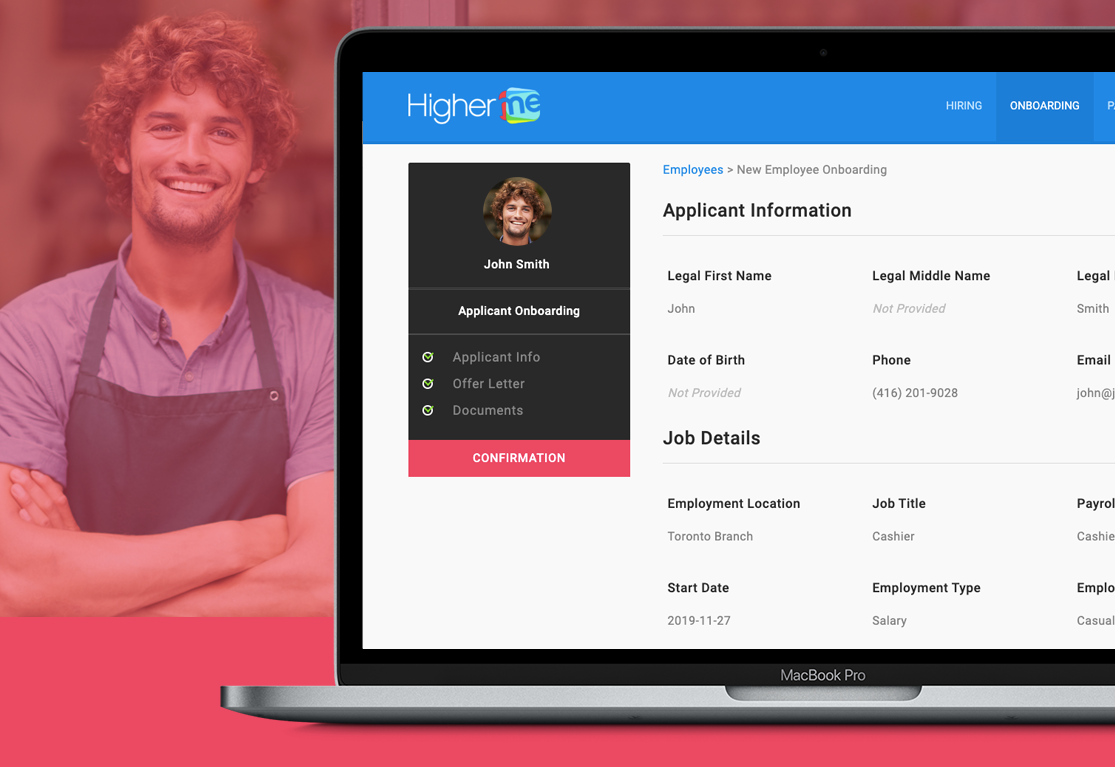 HigherMe's paperless onboarding is now available in Canada, so restaurant and retail businesses can decrease time to hire and organize paperwork before an employee's first shift.
Our custom-built onboarding software was designed specifically for Canadian businesses, making it easy to collect and store the following employee information:
• Basic information like name, address, phone number
• TD1 Personal Tax Credits Return
• Direct deposit or banking details
• Emergency contacts
Once you've hired an employee in HigherMe, they receive a digital offer letter (which can be customized) and are invited to begin onboarding by email or text. You create the onboarding package for your business that includes an offer letter, tax forms, and any mandatory documents that require a signature. New hires can sign everything from their phone or computer before they've even clocked in for their first shift.
Collect Canadian tax forms digitally
With HigherMe onboarding software, you can have employees fill out and sign their TD1 Personal Tax Credits Return electronically rather than completing the paper form.
Completed forms are stored securely in HigherMe, and can easily be accessed at any time.
Get banking information securely
New hires can securely enter their banking information and upload a photo of a blank cheque or deposit slip, so you can easily add them to payroll.
Store employee records digitally
All your employee information and records are stored in the cloud, meaning you'll never misplace a paper file or have to organize a filing cabinet ever again.
Click here to learn more here about using paperless onboarding at your restaurant or retail business today.