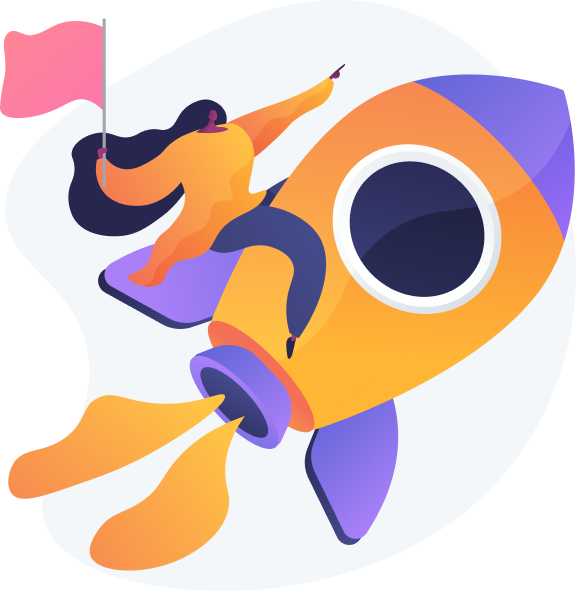 Book a demo
Complete the form below and we will contact you as soon as possible to better understand how we can help you.
What is Text-to-Apply?
Text-to-apply is text recruiting software that makes connecting with qualified applicants easier and increases applications from local jobseekers.
With Text-to-Apply, jobseekers text a keyword and phone number that's unique to your business, and receive a link to your job posts.
Applications are simple and mobile-optimized, making it easy for jobseekers to apply from their phone. Candidates that start an application but don't finish receive automated reminders via text, boosting the application completion rate.
All applications go straight to HigherMe's Applicant tracking system for simple and efficient screening.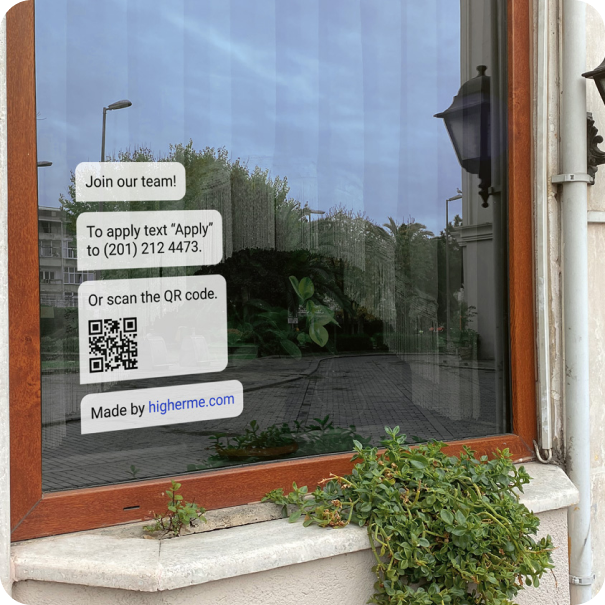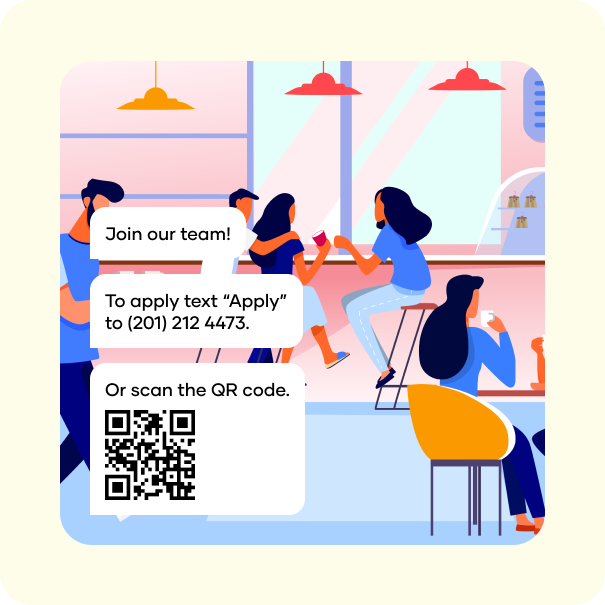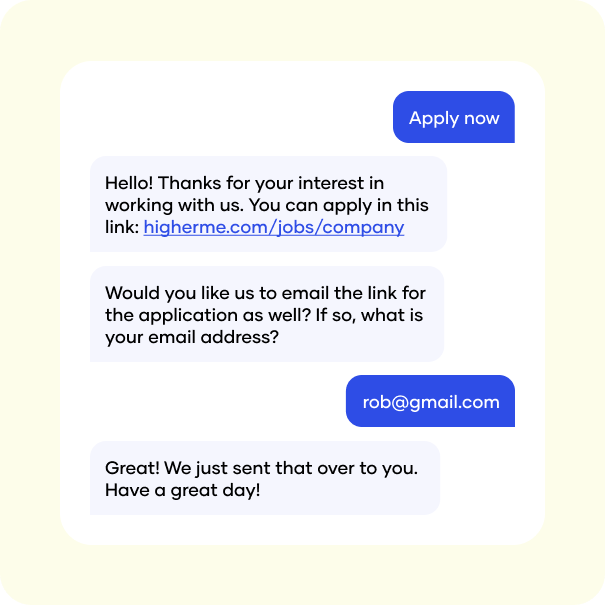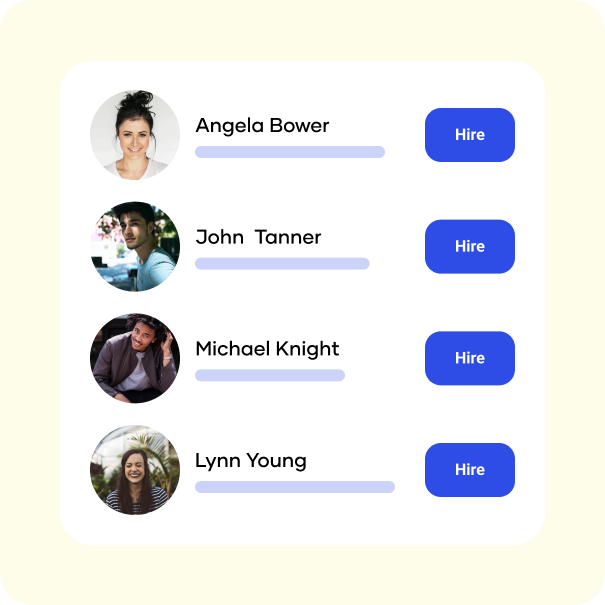 1. Set up

Display your branded Text-to-Apply poster in your store, on delivery vehicles, or with takeout orders.

2. Capture

Capture the attention of local jobseekers, who can easily start applying by texting a basic keyword.

3. Streamline

Streamline the application experience with quick and simple job applications that work on a mobile device.
Benefits
Get more qualified candidates with text recruiting software
Job seekers who apply using this text to hire feature are 8x more likely to be your next hire compared to applicants from other sourcing channels. Get more applications from local candidates who already know and love your brand.

Get instant results from your "now hiring" sign
Get a custom text to apply poster that puts your brand front and center. Reduce hiring friction with a custom keyword and phone number that job seekers can text straight away to start an application.
Increase application flow with a simple candidate experience
Customize your screening questions and create a simple application that candidates can quickly complete from their phone in as little as 4 minutes.

See all your applications in one place
Applicant data seamlessly flows from text to apply into our cloud-based applicant tracking system, allowing you to see all your applications in one place, on any device.

Save time with automated responses
Automated reminders to candidates to finish their application, increasing application completion rates and ensuring you get more completed applications to make a better hiring decision.

Reduce interview ghosting
Schedule your interview with automated interview scheduling software and candidates will get a text reminder 24 hours before their interview.

We will handle everything
We will design the poster and send to you. All the process is automatized, so you don't need to worry about anything.
What the
process looks like
Hiring is the biggest challenge for businesses, but with Text-To-Apply you'll be able to find candidates who are more qualified than other sourcing channels. Potential candidates will know you're hiring when they're in your store and can submit an application on their phones while waiting for their order.
Mobile applications are quick and easy to complete, reducing candidate drop-off and bringing you a bigger pool of qualified applicants to evaluate. Best of all, with every application going to your applicant tracking system, you'll be able to contact those qualified candidates before the competition.
1Create your custom application and screening questions for your job post.
2HigherMe creates a bespoke poster for your business that includes your company logo and brand images as well as your Text-To-Apply keyword and phone number.
3Access your poster in your HigherMe account. Download the file to get it printed. HigherMe users get exclusive rates with our printing partner, Client Rocket.
4Display your poster in your business window, on delivery vehicles, or on takeout boxes.
5Job seekers text your unique keyword and receive a link to your job post.
6For candidates who start an application but don't submit, HigherMe sends automated reminders by text prompting them to finish applying.
7Once complete, the application is available to view on your Applicant Tracking System dashboard. Quickly screen candidates and be the first to contact top talent before the competition.
8Schedule an interview with our interview scheduling software and automated reminders are sent to candidates to help cut interview ghosting.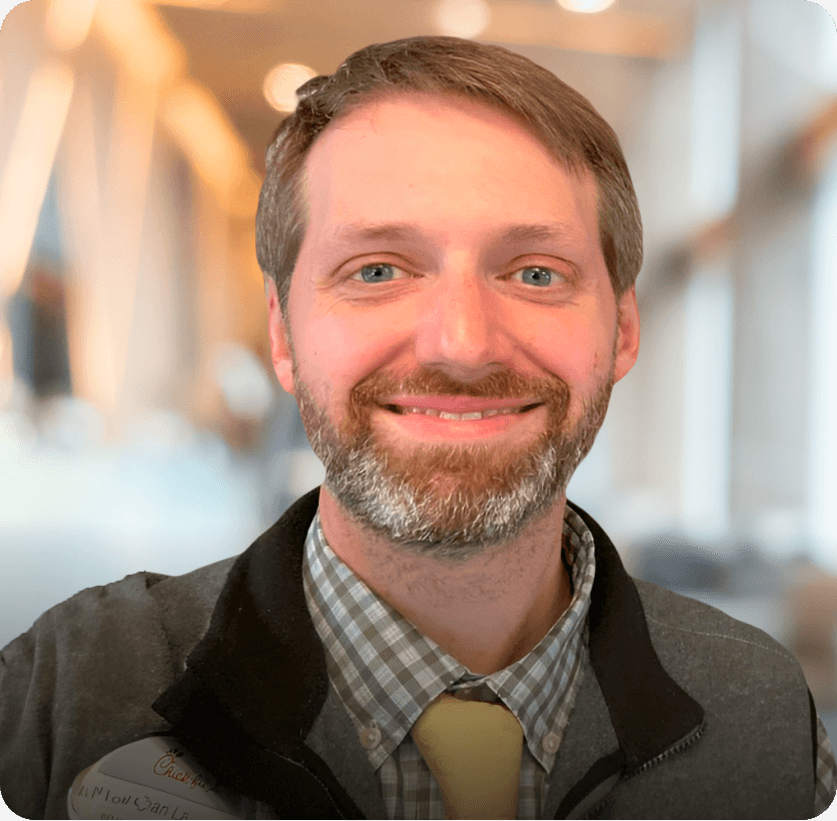 "Being able to depend on a consistent stream of applications without having to devote hours a week to recycling the same posts has revolutionized our HR workflow, saving me hours of labor."
Jonathan Lawrence
Operator, Chick-fil-A Bushriver
Book a demo
We'll contact you as soon as possible to better understand how we can help you