HigherMe Privacy Policy
Effective Date: January 1, 2023
Last Updated Date: April 24, 2023
Table of Contents
Introduction
How we collect and use (process) your personal information
Use of the HigherMe, Inc. website
Cookies and tracking technologies
SMS & Short Codes
Sharing information with third parties
Your choices about your information
Data storage and retention
Children'sdata
Transferring personal data to the U.S.
Data Subject rights
Questions, concerns and complaints
Data Protection Officer
Changes to our Privacy Policy
Introduction
HigherMe, Inc. ("HigherMe", "we", "our" or "us") develops applicant sourcing, hiring, screening, messaging and onboarding solutions for business customers ("Customers") which include our proprietary solutions, functionalities and systems (our "Service"). We understand that privacy is important to our users. This Privacy Policy explains:
How HigherMe collects, uses, and shares information about visitors to our website and application, and
How HigherMe collects, uses and shares information provided to us by or on behalf of our customers as part of our hiring and onboarding products
All capitalized terms that are not defined herein have the definitions given them in our Terms of Service (www.higherme.com/terms). By using our Service, you agree to the terms of this Privacy Policy and our Terms of Service (www.higherme.com/terms).
We recognize that information privacy is an ongoing responsibility, and so we will from time to time update this Privacy Notice as we undertake new personal data practices or adopt new privacy policies.
How we collect and use (process) your personal information
HigherMe collects personal information about its website visitors and customers.With a few exceptions, this information is generally limited to:
name
job title
employer name
work address
work email
work phone number
We use this information to provide prospects and customers with services.
We do not sell personal information to anyone and only share it with third parties who are facilitating the delivery of our services.
From time to time, HigherMe receives personal information about individuals from third parties. Typically, information collected from third parties will include further details on your employer or industry. We may also collect your personal data from a third-party website (e.g. LinkedIn). We may combine this information with data we collect from you through other methods.
Use of HigherMe, Inc. Website
As is true of most other websites, HigherMe's website collects certain information automatically and stores it in log files. The information may include internet protocol (IP) addresses, the region or general location where your computer or device is accessing the internet, browser type, operating system and other usage information about the use of HigherMe's website, including a history of the pages you view. We use this information to help us design our site to better suit our users' needs. We may also use your IP address to help diagnose problems with our server and to administer our website, analyze trends, track visitor movements, and gather broad demographic information that assists us in identifying visitor preferences.
HigherMe has a legitimate interest in understanding how members, customers and potential customers use its website. This assists HigherMe with providing more relevant products and services, with communicating value to our sponsors and corporate members, and with providing appropriate staffing to meet member and customer needs.
Cookies and tracking technologies




We and our third party partners may automatically collect certain types of usage information when you visit our website or use our Service. For instance, when you visit our websites, we may send one or more cookies — a small text file containing a string of alphanumeric characters — to your computer that uniquely identifies your browser and lets us help you log in faster and enhance your navigation through the site. A cookie may also convey information to us about how you use the Service (e.g., the pages you view, the links you click, how frequently you access the Service, and other actions you take on the Service), and allow us to track your usage of the Service over time. We may collect log file information about your browser or mobile device each time you access the Service. Log file information may include anonymous information such as your web request, Internet Protocol ("IP") address, browser type, information about your mobile device, referring / exit pages and URLs, number of clicks and how you interact with links on the Service, domain names, landing pages, pages viewed, and other such information. We may employ clear gifs (also known as web beacons) which are used to anonymously track the online usage patterns of our Users. In addition, we may also use clear gifs in HTML­ based emails sent to our users to track which emails are opened and which links are clicked by recipients. The information allows for more accurate reporting and improvement of the Service. We may also collect analytics data, or use third­ party analytics tools, to help us measure traffic and usage trends for the Service. These tools collect information sent by your browser or mobile device, including the pages you visit, your use of third party applications, and other information that assists us in analyzing and improving the Service. Although we do our best to honor the privacy preferences of our Users, we are not able to respond to Do Not Track signals from your browser at this time.
When you access our Service by or through a mobile device, we may receive or collect and store a unique identification numbers associated with your device or our mobile application (including, for example, a UDID, Unique ID for Advertisers ("IDFA"), Google Ad ID, or Windows Advertising ID), mobile carrier, device type, model and manufacturer, mobile device operating system brand and model, phone number, and, depending on your mobile device settings, your geographical location data, including GPS coordinates (e.g. latitude and/or longitude) or similar information regarding the location of your mobile device.
We may use the data collected through cookies, log file, device identifiers, location data and clear gifs information to: (a) remember information so that you will not have to re­enter it during your visit or the next time you visit the site; (b) provide custom, personalized content and information, including advertising; (c) provide and monitor the effectiveness of our Service; (d) monitor aggregate metrics such as total number of visitors, traffic, usage, and demographic patterns on our website and our Service; (e) diagnose or fix technology problems; and (f) otherwise to plan for and enhance our Service.
Third party tracking and online advertising. We may permit third party ad networks, social media companies, and other third party services to collect information about browsing behavior from visitors to our Service through cookies, social plug­ins, or other tracking technology. We may permit third party online advertising networks to collect information about your use of our websites over time so that they may play or display ads that may be relevant to your interests on our Service as well as on other websites or services. Typically, the information is collected through cookies or similar tracking technologies. The only way to completely "opt out" of the collection of any information through cookies or other tracking technology is to actively manage the settings on your browser or mobile device. Please refer to your browser's or mobile device's technical information for instructions on how to delete and disable cookies, and other tracking/recording tools. (To learn more about cookies, clear gifs/web beacons and related technologies and how you may opt­ out of some of this tracking, you may wish to visit http://www.allaboutcookies.org and/or the Network Advertising Initiative's online resources, at http://www.networkadvertising.org). Depending on your mobile device, you may not be able to control tracking technologies through settings.
SMS & Short Codes
Users may receive messages from employers regarding (but not limited to) open positions, interviews, and other types of follow-ups regarding hiring. You can cancel the SMS service at any time. Just text "STOP" to the short code. After you send the SMS message "STOP" to us, we will send you an SMS message to confirm that you have been unsubscribed. After this, you will no longer receive SMS messages from us. If you want to join again, just sign up as you did the first time and we will start sending SMS messages to you again. If you are experiencing issues with the messaging program you can reply with the keyword HELP for more assistance, or you can get help directly via email at friends@higherme.com. Carriers are not liable for delayed or undelivered messages. As always, message and data rates may apply for any messages sent to you from us and to us from you. If you have any questions about your text plan or data plan, it is best to contact your wireless provider.
Sharing information with third parties
We may share your personal information in the instances described below. For further information on your choices regarding your information, see the "Your Choices About Your Information" section below. Use of our Service allows you to connect and interact with others. Your profile information, including your name, photo, and other personal information, may be available publicly to other members of the Service by default. This information may be available to the public and may be searchable by search engines which may display certain parts of your personal information publicly. We may share your personal information with:
Other parties you chose to share data with through our Service. This includes your employer or potential employer and any other company or individual you engage with through our Service;
Third parties for marketing purposes;
Third party vendors and other service providers that perform services on our behalf, in order to carry out their work for us, which may include billing, payments, service fulfillment, web hosting or providing analytic services. We provide only as much information as is reasonably necessary;
Third parties as required by law or subpoena or if we reasonably believe that such action is necessary to (a) comply with the law and the reasonable requests of law enforcement; (b) to enforce our Terms of Service (www.higherme/terms) or to protect the security or integrity of our Service; and/or (c) to exercise or protect the rights, property, or personal safety of HigherMe, our Users, or others.
A HigherMe account can be created either by registering for the site, or by creating a job application. Creating a HigherMe account entitles HigherMe to present the contained information and our subsequent analysis to employers. By submitting an application, applicants are opting-in to having their profile viewable on the HigherMe applicant network and agree to have their profiles available to employers registered with HigherMe. If you do not want to be included in our applicant network, do not create a profile and do not submit an application using our Website. If you do not want your photo, video, or other sensitive information to be included in your profile or application, do not provide a photo or video in your profile or in connection with a job application.
As described above, any personal information that we receive or have access to in the course of providing our Service to a Customer, is shared by HigherMe solely on behalf of the Customer, and in accordance with our agreements with the Customer, unless you agree to participate in additional services offered by HigherMe. Therefore, if you are interacting in the hiring, onboarding and workflow performance context with one of our Customers, please review the Customer's privacy policy, terms of use, employment policies and procedures or other notices, and the Customer's settings on the Service to learn more about the Customer's information practices, including the use of service providers like HigherMe.
We may also aggregate or otherwise strip data of all personally identifying characteristics and may share that aggregated or anonymized data with third parties.
We do not otherwise reveal your personal data to non-HigherMe persons or businesses for their independent use unless you request or authorize it.
The HigherMe website connects with third party services such as Facebook, LinkedIn, Twitter and others. If you choose to share information from the HigherMe website through these services, you should review the privacy policy of that service. If you are a member of a third party service, the aforementioned connections may allow that service to connect your visit to our site to your personal data.
Your choices about your information
You can stop receiving promotional email communications from us by clicking on the "unsubscribe link" provided in such communications. You may not opt out of Service related communications (e.g., account verification, transactional communications, changes/updates to features of the Service, technical and security notices). Please note that other users, such as your employer or potential employer, may contact you through or outside of the Service and HigherMe may not be able to control your preferences for those types of communications.

Modifying or deleting your information. We will retain your information for as long as your account is active or as needed to provide you Services. You may view and modify your personal information through your account settings. We may not be able to modify or delete your information in all circumstances. For example, information we collect in the course of providing the Service is shared with our Customer and we do not control access to nor delete that information once it has been shared with our Customer. If you have any questions about reviewing, modifying or deleting your account information, contact us at friends@higherme.com. In some cases, we may not be able to remove your personally identifiable information, in which case we will let you know if we are unable to do so and why. You can also contact the Customer directly to learn more about how the Customer uses and stores your personal information.
This Privacy Notice is intended to provide you with information about what personal data HigherMe collects about you and how it is used.
If you wish to confirm that HigherMe is processing your personal data, or to have access to the personal data HigherMe may have about you, please contact us.
You may also request information about: the purpose of the processing; the categories of personal data concerned; who else outside HigherMe might have received the data from HigherMe; what the source of the information was (if you didn't provide it directly to HigherMe); and how long it will be stored. You have a right to correct (rectify) the record of your personal data maintained by HigherMe if it is inaccurate. You may request that HigherMe erases that data or cease processing it, subject to certain exceptions. You may also request that HigherMe cease using your data for direct marketing purposes. In many countries, you have a right to lodge a complaint with the appropriate data protection authority if you have concerns about how HigherMe processes your personal data. When technically feasible, HigherMe will—at your request—provide your personal data to you.
Reasonable access to your personal data will be provided at no cost. If access cannot be provided within a reasonable time frame, HigherMe will provide you with a date when the information will be provided. If for some reason access is denied, HigherMe will provide an explanation as to why access has been denied.
For questions or complaints concerning the processing of your personal data, you can email us at friends@higherme.com. Alternatively, if you are located in the European Union, you can also have recourse to the European Data Protection Supervisor or with your nation's data protection authority.
Data storage and retention
Your personal data is stored by HigherMe on its servers, and on the servers of the cloud-based database management services HigherMe engages, located in the United States. HigherMe retains service data for the duration of the customer's business relationship with HigherMe and for a period of time thereafter, to analyze the data for HigherMe's own operations, and for historical and archiving purposes associated with HigherMe's services. HigherMe retains prospect data until such time as it no longer has business value and is purged from HigherMe systems. All personal data that HigherMe controls may be deleted upon verified request from Data Subjects or their authorized agents. For more information on where and how long your personal data is stored, and for more information on your rights of erasure and portability, please contact us at: friends@higherme.com.
HigherMe cares about the security of your information, and uses commercially reasonable physical, administrative, and technological safeguards to preserve the integrity and security of all information collected through the Service. However, no security system is impenetrable and we cannot guarantee the security of our systems 100%. In the event that any information under our control is compromised as a result of a breach of security, HigherMe will investigate the situation and where appropriate, notify those individuals whose information may have been compromised and take other steps, in accordance with any applicable laws and regulations.
Children's data
HigherMe does not knowingly collect or solicit any information from anyone under the age of 13 or knowingly allow such persons to register as Users. In the event that we learn that we have collected personal information from a child under age 13, we will delete that information as quickly as possible. If you believe that we might have any information from a child under 13, please contact us at friends@higherme.com.



Transferring personal data to the U.S.
HigherMe has its headquarters in the United States. Information we collect about you will be processed in the United States. By using HigherMe's services, you acknowledge that your personal information will be processed in the United States. The United States has not sought nor received a finding of "adequacy" from the European Union under Article 45 of the GDPR. Pursuant to Article 46 of the GDPR, HigherMe is providing for appropriate safeguards by entering binding, standard data protection clauses, enforceable by data subjects in the EEA and the UK. These clauses have been enhanced based on the guidance of the European Data Protection Board and will be updated when the new draft model clauses are approved.
Depending on the circumstance, HigherMe also collects and transfers to the U.S. personal data with consent; to perform a contract with you; or to fulfill a compelling legitimate interest of HigherMe in a manner that does not outweigh your rights and freedoms. HigherMe endeavors to apply suitable safeguards to protect the privacy and security of your personal data and to use it only consistent with your relationship with HigherMe and the practices described in this Privacy Statement. HigherMe also enters into data processing agreements and model clauses with its vendors whenever feasible and appropriate. Since it was founded, HigherMe has received zero government requests for information.
For more information or if you have any questions, please contact us at friends@higherme.com
Data Subject rights
The European Union's General Data Protection Regulation (GDPR) and other countries' privacy laws provide certain rights for data subjects. Data Subject rights under GDPR include the following:
Right to be informed
Right of access
Right to rectification
Right to erasure
Right to restrict processing
Right of data portability
Right to object
Rights related to automated decision making including profiling
Questions, concerns or complaints
If you have questions, concerns, complaints, or would like to exercise your rights, please contact us at:
HigherMe, Inc.
440 N Barranca Ave #9946 Covina, CA 91723
888-585-0842
Data Protection Officer
HigherMe, Inc. has appointed an internal data protection officer for you to contact if you have any questions or concerns about HigherMe, Inc.'s personal data policies or practices. If you would like to exercise your privacy rights, please direct your query to HigherMe, Inc.'s data protection officer. HigherMe, Inc.'s data protection officer's name and contact information are as follows:
Ben Shackleton
HigherMe, Inc.
440 N Barranca Ave #9946 Covina, CA 91723
888-585-0842
friends@higherme.com
Changes to our Privacy Policy
HigherMe may modify or update this Privacy Policy from time to time to reflect the changes in our business and practices, and so you should review this page periodically. When we change the policy we will update the 'last modified' date at the top of this page.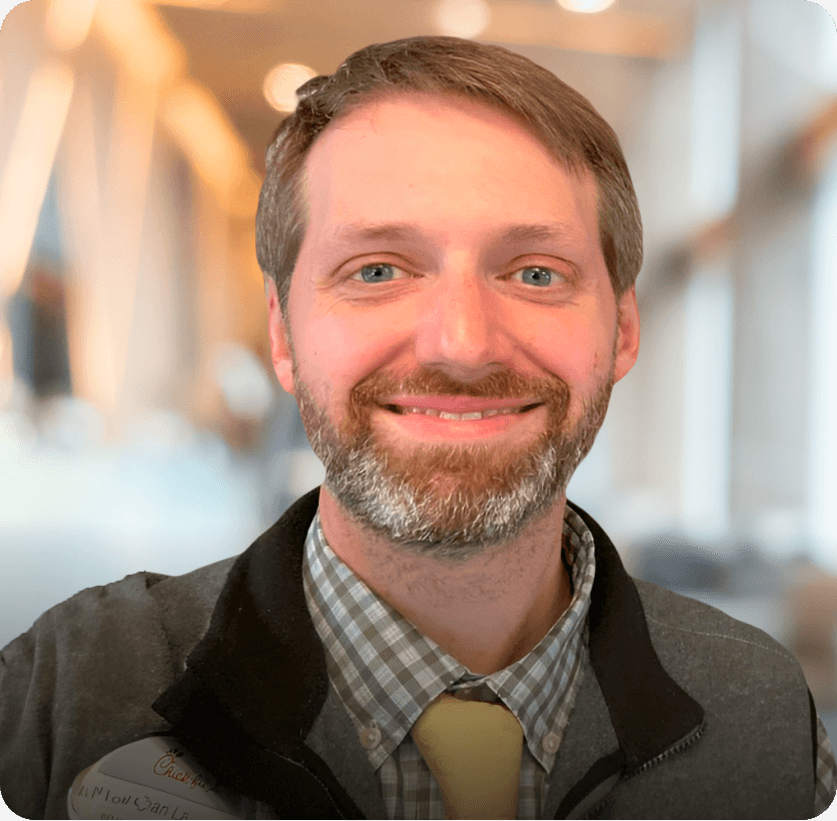 "Being able to depend on a consistent stream of applications without having to devote hours a week to recycling the same posts has revolutionized our HR workflow, saving me hours of labor."
Jonathan Lawrence
Operator, Chick-fil-A Bushriver
Book a demo
We'll contact you as soon as possible to better understand how we can help you