Onboarding Progress Tracker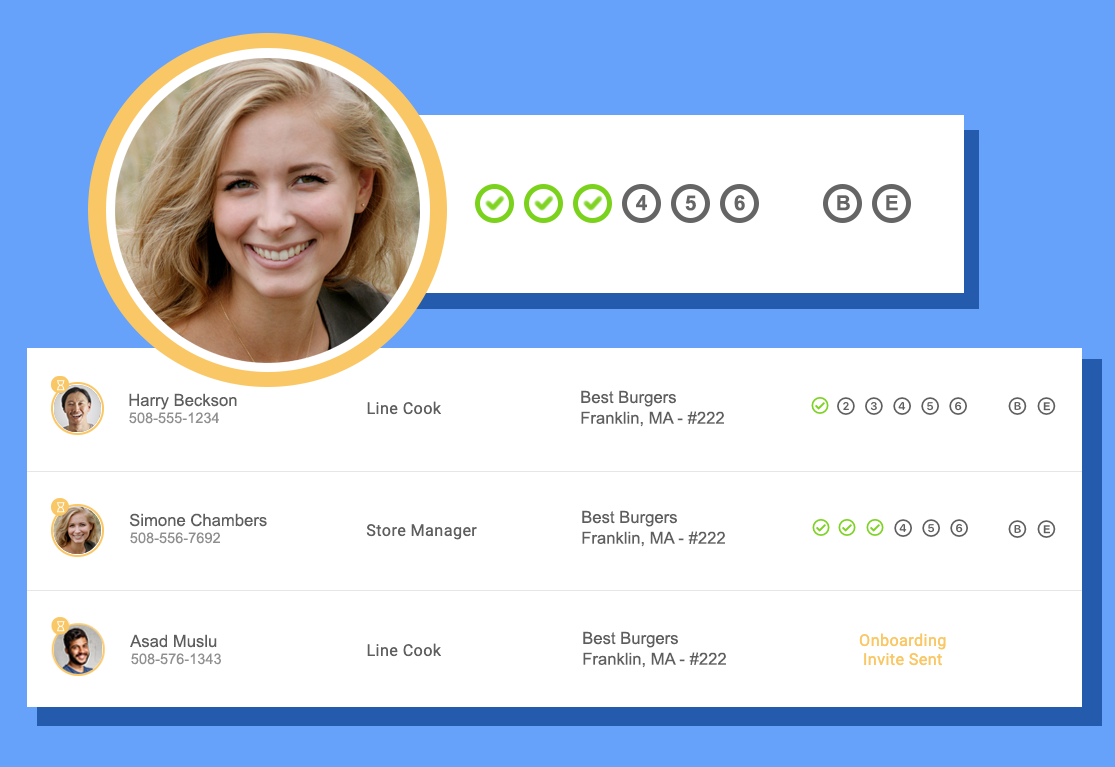 Should Your Onboarding Progress Tracker Be Templates or Software?
Onboarding is crucial for restaurant owners, but keeping up with the paperwork can be a hassle. By using an onboarding progress tracker, you can stay organized during the onboarding process and share the right information with your new employee the moment they need it.
But, what's better—to track onboarding progress manually or with software? We'll dive into the details of both options in this blog post so you can choose the right process for your business.
Tracking Employee Onboarding Using Checklists & Templates
Tracking onboarding progress manually with checklists and templates has historically worked for restaurant owners. Depending on your needs, you may need multiple checklists for the different phases in your onboarding process.
With just a little organization, you can track your new hire's onboarding progress by outlining specific steps that need to be accomplished during their first two weeks. For help creating your own onboarding checklist, check out this article outlining everything you need in your restaurant's onboarding process.
If you're short on time, you can use HigherMe's printable onboarding checklists for your own onboarding process. The template includes three checklists for pre-boarding, including:
A Paperwork Checklist
An Equipment Checklist
A Buddy System Checklist
It also includes three more printable checklists for after the pre-onboarding stage:
Welcoming Phase Checklist
Training Phase Checklist
Full Transition Checklist
Since HigherMe works directly with restaurant owners, the printable onboarding checklists include standard onboarding steps that are custom to the restaurant industry.
You can use each checklist for the different phases of your onboarding to meet the needs of your restaurant and your new hire. If you feel like something is missing, feel free to add additional steps for your restaurant's unique operations.
When to Transition from a Manual Onboarding Tracker to an Automatic System
It's important to improve your onboarding process over time to fit the needs of your restaurant and your staff. For some restaurant owners, manual checklists and templates don't do enough to keep their information organized. Plus, manual processes don't provide any insights into your new hire's progress in your onboarding process.
For these reasons, restaurant owners have turned to an automated system to streamline the entire onboarding process for them.
Additionally, restaurant owners may turn to an automatic system if their current onboarding efforts are falling short. If your veteran employees aren't training with the correct information, then this can create confusion and negatively impact the experience for your new hire.
You want to avoid negative experiences in your onboarding process as much as possible since great onboarding is directly correlated with employee retention. If you're seeing a high churn in your employment, then improving your onboarding process can help retain employees by giving them a positive experience from the get-go.
Another reason restaurant owners switch to an automated system is for time. If you find keeping track of employees onboarding takes away from your own managerial responsibilities, then switching to an automated system can help ease your workload.
If this resonates, then it may be time to transition to a software that takes care of onboarding for you. Switching to an automated system may seem intimidating, but it will save time in the long run by relieving you of time-consuming manual processes.


Tracking Employee Onboarding Using an Applicant Tracking System
If you're ready to transition to a tool that will automate your onboarding process, then an applicant tracking software can help you get the job done.
There are multiple benefits to transitioning to an applicant tracking system including:
Reducing hiring time

With a digital onboarding system, you'll be able to automate manual processes, vet applications and hire quickly.

Simplifying your onboarding paperwork

You can create a digital onboarding package to send the right documents to the right people at the right time.

Save time with digital signatures

Your employees can complete their onboarding at home with digital signatures so they can show up to their first shift ready for training.

Easily collect employee information

All your employee information will be saved in your online account so you can easily issue payroll and contact employees outside of work.
While there are plenty of applicant tracking softwares out there, HigherMe has created one specifically for the restaurant industry. Check out the details below to learn more about HigherMe's applicant tracking software.
Track Onboarding Progress
Track and manage onboarding progress for all new hires and review the status of E-Verify and background screenings from one simple dashboard with HigherMe's Paperless Onboarding.

Easily get full visibility into each candidate's onboarding progress from one dashboard. Want to see which step a candidate is on, or which documents they still haven't signed? With an easy way to get an overview of your onboarding process, you can see where new hires are most likely to get stuck and optimize your onboarding process as needed.
Automated Onboarding Reminders
Once you've invited a candidate to begin onboarding, HigherMe automatically sends email reminders to candidates 24, 48, or 72 hours after the onboarding package has been sent. If you still haven't heard from an employee after three days, you have the option to easily send them a reminder from the onboarding dashboard.
Track Background Checks and E-Verify
For employers using advanced screening tools, you no longer need to review a candidate's individual profile to see the status of their background check or E-Verify authorization. Now, each status can be reviewed from your onboarding dashboard.
An Overview Video of HigherMe's Onboarding Tracker
Did we miss anything? If you're ready to start hiring amazing employees, reach out to us at HigherMe! Email us at contact@higherme.com, or visit our Applicant Tracking System!