Introducing: Express Careers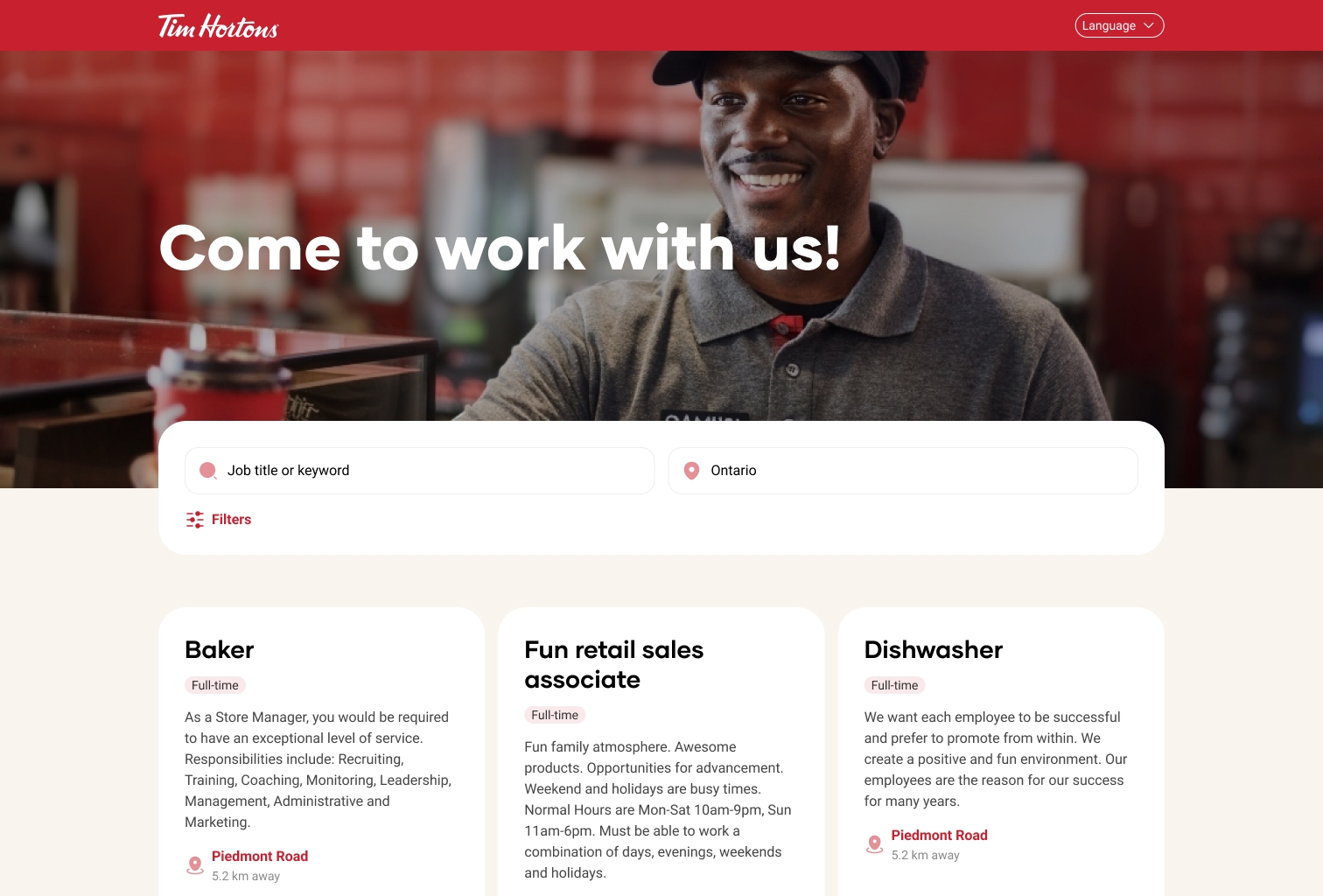 In a hurry? Here is the summary
HigherMe has launched a new program called Express Careers. Inspired by our corporate restaurant partners, it offers a simple way for franchise systems to leverage their employer brands and support franchisees and hiring managers with a completely branded corporate careers page.
With Express Careers, brands will have a central branded careers page where all franchisees and store managers can post their jobs.
Unlike traditional options, HigherMe hosts, designs, and manages the page. This provides franchise groups who have limited technical resources or capacity with the ability to assist front-line stores in their hiring efforts. All locations can post corporate approved job descriptions, and receive applicants for their location directly in their email.
Our solution increases application completion with a user-friendly mobile application, and is also coupled with HigherMe's Text-to-Apply solution.
Franchisees and their hiring managers have access to an easy-to-use system to share their current openings and receive applications from your company careers page.
Express Careers
Finding the right employees is the first crucial step in running a successful restaurant. It is an ongoing effort that requires time. Today's hiring managers and franchisees are extremely busy; hiring needs to be streamlined in order to bring in the right people in as quickly as possible. In large operations, hiring can get even more complicated to manage and automate.
That's why we are excited to announce our newest product: Express Careers, a simple way for franchise systems to leverage their employer brands and support franchisees with a completely branded corporate careers page.
What is Express Careers
With Express Careers, medium and large-sized franchise systems will have a central careers page where all franchisees and hiring managers can post their job openings. Candidates can filter different cities or locations and apply directly on your branded careers page. Each application will be readily accessible in the hiring manager's email inbox or in their HigherMe dashboard.
What we heard from Franchise Leaders like you
Working with over 15,000 restaurants across North America, we've consistently heard franchise leaders bring up the same challenges when it comes to supporting franchisees in their recruitment:
Recruiting has become the top challenge faced by franchisees, which is hindering efforts to execute on operations, menu, and marketing initiatives
Leaders know they need to help, but are also wary of common employer laws and getting directly involved in hiring processes
Most careers pages options aren't well suited to franchise systems. Maps and irrelevant filters create job seeker friction, and backend systems are too complicated for franchisees.
The majority of franchisors feel they don't have the technical capacity to solve these challenges themselves, or implement complex vendor systems
Franchisors want to use their brand power to help drive job applications, but don't want to lock franchisees in to using an end-to-end system
How Express Careers helps Recruiting, Marketing, and Operations Leaders
Express Careers was created with you in mind. Launching and maintaining a careers page and successful employer branding campaign has traditionally been a significant undertaking. Express is an efficient system that helps take the majority of the workload off of you. If you are a Recruiting, Marketing or Operations Leader, here is how we help you:
No more having to manually manage location lists, job postings, or forwarding applications to store managers.
Increase your hire rate by providing locations with a solution that reduces time to hire, and keep candidates engaged with a user-friendly application
Provide franchisees with a powerful way to drive applicants by leveraging HigherMe's Text-to-Apply solution
Standardize communication and stay in compliance with government regulations by having preloaded job templates that can be customized to a location's specific needs
All store-level managers have access to our support team, releasing some of your workload of having to also answer questions and provide support
How Express Careers helps Franchisees and Store Managers
For franchisees and store managers, it is an easy-to-use system to share their current openings on a branded careers page. Here are the benefits:
Post jobs in 4 easy steps
Share open positions to allow candidates to find the best job and location.
Update job descriptions and stay compliant with preloaded posting templates
Gain access to a dashboard to help you keep track of applicants
Take advantage of discounted preferred pricing on HigherMe's additional services
In the image: Page where hiring managers can select from pre-written job template
In the image: Page where hiring managers can easily edit and turn a job on and off.
In the image: Page where hiring managers and approved users can see all applications for their location(s).
Your hiring advantage is keeping the hiring process simple and organized. Leverage HigherMe Express to share and manage open positions, and help candidates find their best job opportunities - saving time and effort for both you and the job seeker!

Interested in learning how Express Careers fits into your process and organization?