Introducing Applicant Profiles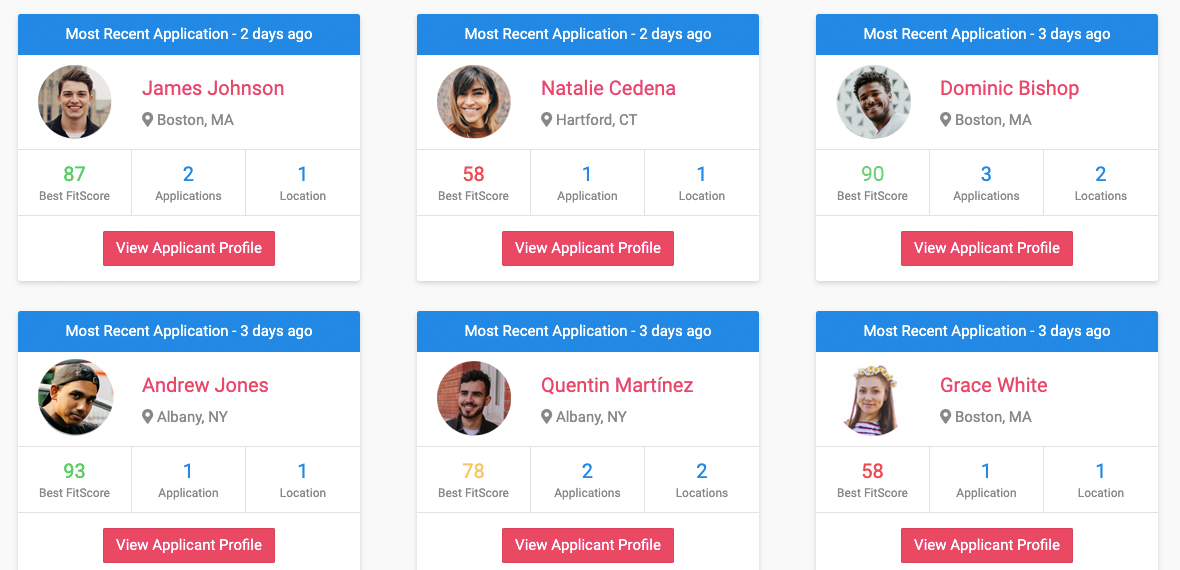 Keep track of exactly who has applied for a job at your business, no matter which position or location. With HigherMe's new Applicant Profiles tab, you can easily sort and manage candidates who have applied to multiple positions or locations and avoid reviewing the same profiles twice.
This new feature on your Applications page allows you to:
- Avoid sorting through multiple applications from the same candidate by switching between Applications & Applicant Profiles. From the Applications page, simply select Applicant Profiles to quickly and easily see a summary of each unique candidate.
- Get an overview of each unique candidate in one place with a summary that includes their name, location, best FitScore, number of applications, and number of locations where they've applied.
- Easily review every application from each profile. Think you've seen this candidate before? See a short summary of every position they've applied for, as well as notes that have been added to their file. See the date and status from previous applications to avoid wasting time chasing down old files.
- Save time by bulk updating statuses. After reviewing each application, save time by updating the status for every job in one place to keep track of where the candidate is in the hiring process. If you reject a candidate, you have the option to add a reason for the rejection to their file.
- Collaborate with your whole team. The notes and rejection reasons you add are available to your entire team, so you can hire faster together. You can even see information about applications at locations you don't have access to, so you can make an informed decision about each candidate.
Learn more on the HigherMe Help Center.