Gain Actionable Business Insights with HigherMe Reporting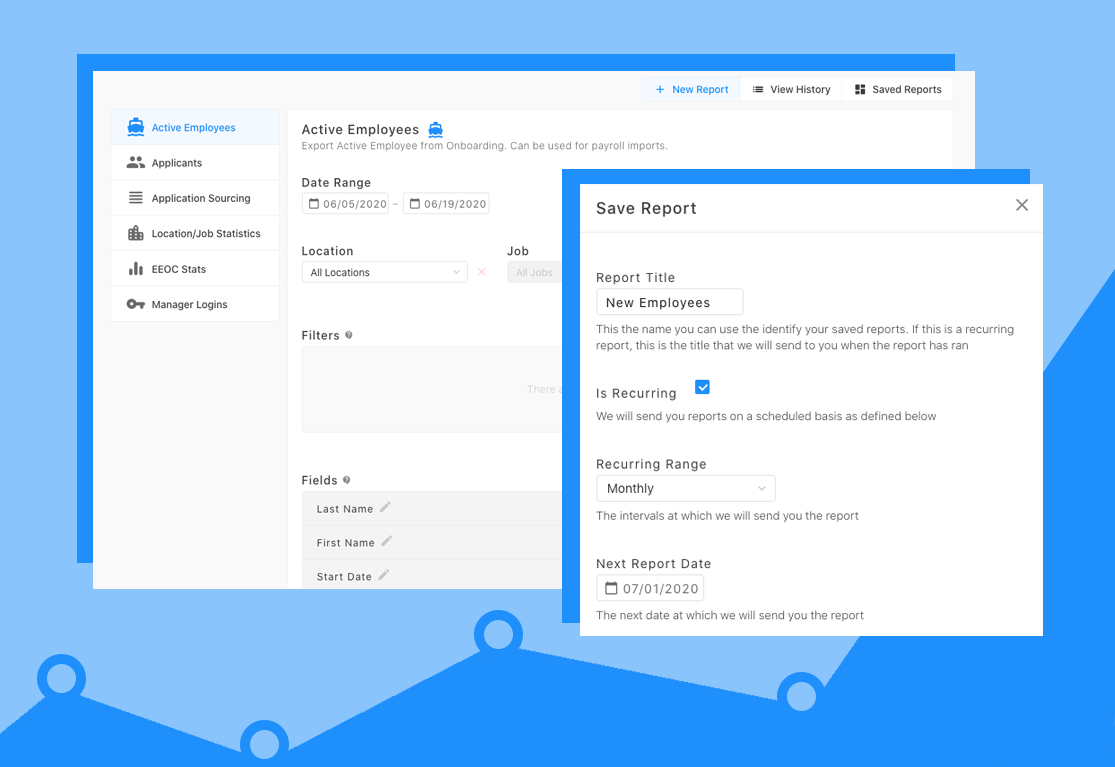 Gain actionable insights on hiring trends and make informed business decisions by creating your own personalized reports with HigherMe Reporting.
See trends on which locations get the most applications, jobs which are the most challenging to recruit, locations that attract the highest quality candidates, and more.
Create a custom report to get data for a specific location or job, or schedule the reports you need often to be sent on a recurring basis.
Reports can be downloaded in the format of your choice so you can manipulate the data in Excel and easily upload new employee information to your HRIS or payroll software.

Custom hiring reports
See hiring trends with the Applicants report. Choose the date range, location, and jobs you'd like to analyze as well as any additional filters you want to add for State or application status. Each field of the report is fully customizable, and any changes you make will appear on your downloaded report.
Better business insights
To evaluate hiring trends on a regular basis, save your report to run on a daily, weekly, bi-weekly, monthly, or quarterly basis. Saved reports can be accessed anytime and you'll be notified via email when it's ready to view on your HigherMe reporting dashboard.
Reduced manual entry
Keep your HR process organized. After you've hired a new employee in HigherMe, export your Active Employees report, organize the data in Excel, and then upload it to your HRIS or payroll software. Choose only the fields you need and update the labels to update column headers before your file is exported.
HigherMe Reporting
In addition to reports on your applicants and new hires, all HigherMe reports can now be found in one place. Get insights on top sourcing channels, location hiring statistics, and manager logins. For employers in the US, download your EEOC report for easy filing.
To learn more about HigherMe Reporting, book a demo with our sales team. Learn more at our website.