Reduce Labor Costs: HigherMe Now Integrates with 7shifts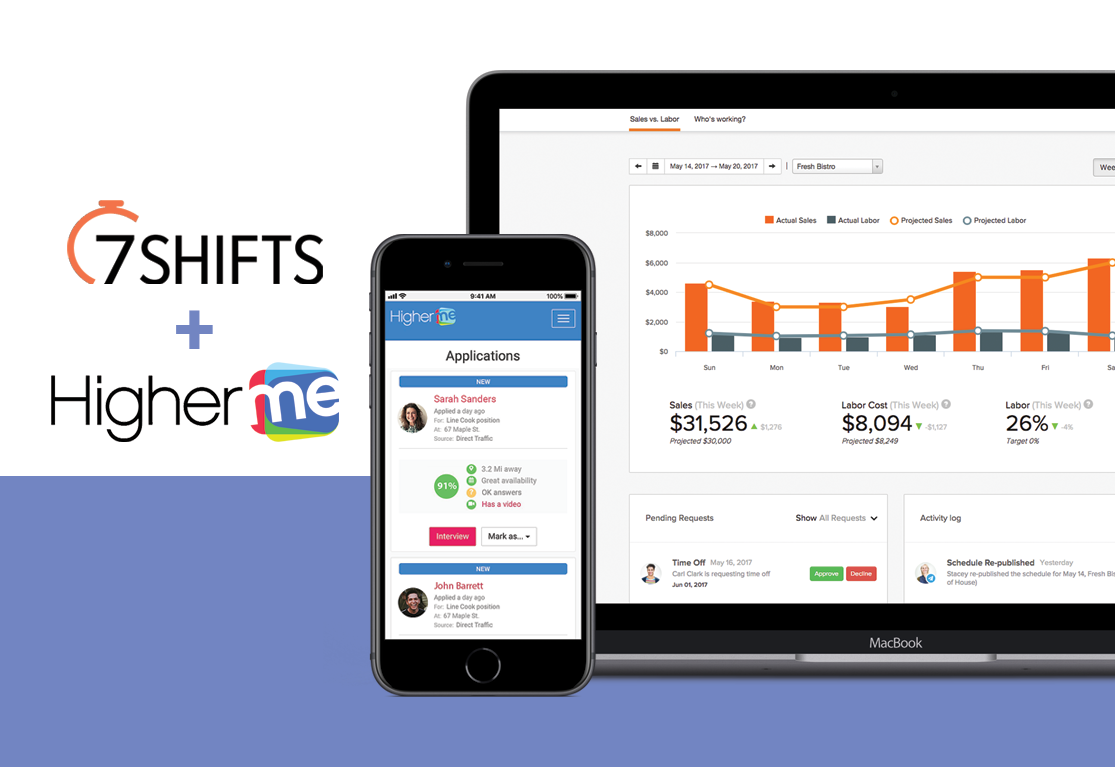 At HigherMe, we're committed to helping owners and operators hire the best employees, all while saving time and money. To keep your newly hired employees engaged, we're excited to announce that we now have an integration with 7shifts, the leading staff scheduling and time management software.
7shifts helps managers save five hours per week by optimizing labor operations with tools that keep track of employee availability, time-off, and shift changes. Managers can communicate with employees without exchanging private contact information with the help of built-in communication features.
HigherMe and 7shifts work together so you can reduce turnover costs and increase employee engagement. Once you've hired an employee, a new profile will automatically be created in 7shifts with all the applicant information pulled from HigherMe.

Here's why you should start using HigherMe and 7shifts, together:

Manage your business on-the-go
Save time and oversee your business from anywhere with the ability to manage your employee experience from any device. You can review candidates, automate your interview scheduling, and send offer letters in HigherMe, and then add your new employees to 7shifts to create their schedule. With automated tools and insightful reporting, there's more time in your day to focus on growing your business (and less time spent playing phone tag).
Find the best employees, and keep them
HigherMe makes it easy to attract, find, and onboard new employees, and once you've found them, you want to keep them. 7shifts makes life easy for employees, with tools to view their schedule, swap shifts, and submit time-off requests, keeping your team engaged and less likely to quit. Keeping employees happy from day one boosts staff retention rates, reducing turnover costs.
Stay in compliance with labor standards
Keeping up-to-date with labor laws and regulations in your city or state can feel like a challenge. HigherMe makes it easy to collect mandatory government forms like the I-9 and W-4, as well as confirm work eligibility with E-Verify. With 7shifts, you'll get automated break and overtime alerts for staff, and ensure your employees aren't scheduled for "clopen" shifts.
7shifts is available for a one month free trial for HigherMe customers. Click here to sign up and start your free trial today.