How Applebee's increased their number of applicants by 150% with HigherMe
"One of my locations that is typically hard to staff had 66 interviews in one week right after signing up with HigherMe. It would normally take 2 months to get that type of traffic."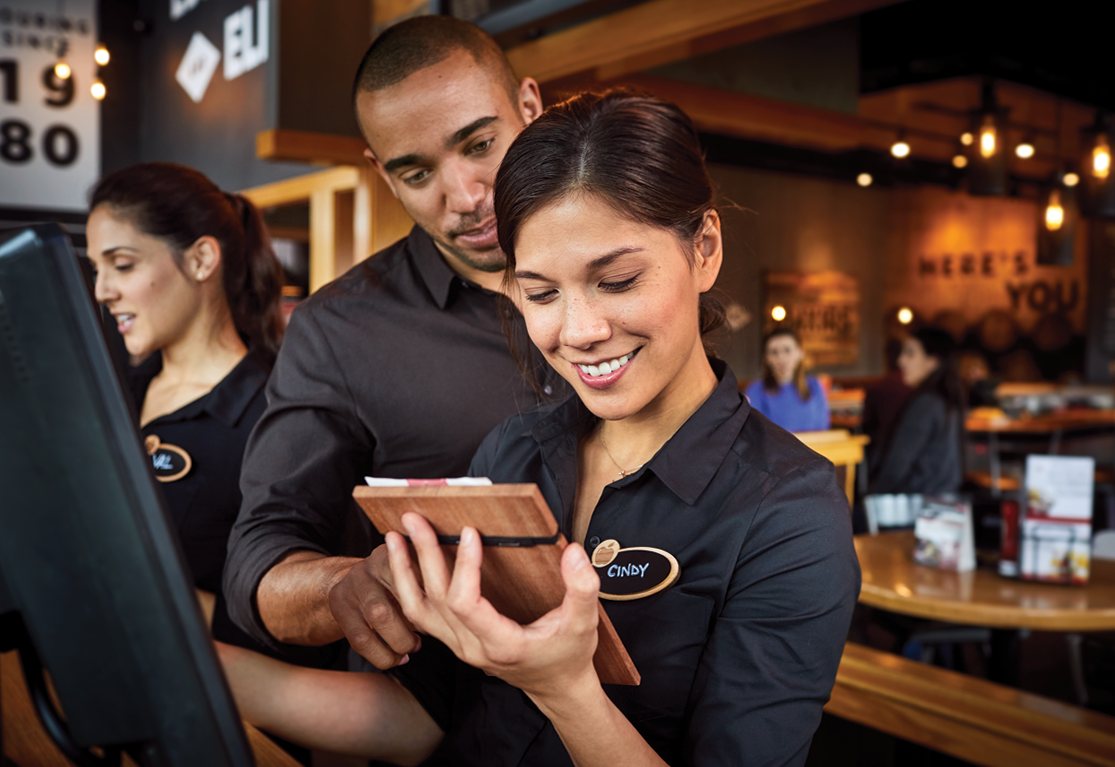 Multi-unit franchise Quality Restaurant Concepts, LLC (QRC) manages and operates 60 Applebee's Grill + Bar locations in the Southeastern United States. Their mission is to provide a great guest experience every time, but that was a challenge when they struggled to keep all their restaurants fully staffed.
Managers were relying heavily on accepting paper applications and résumés from job seekers, creating a very manual hiring process. To reach more job seekers, QRC was promoting their open positions online with both Snagajob and Indeed, but using both services was creating duplicate work, and also had high rates of candidate drop-off.
QRC would also attend local job fairs and meet great talent, but then would have no way to get applicants to apply on the spot. Many applicants were told to apply online through Snagajob or Indeed once they got home, but few would actually submit an application.
Once they finally did get applications, managers were spending three hours or more each day playing phone tag to schedule or reschedule interviews.
Kristi W., QRC's Director of HR, saw how much time and money managers were spending on hiring, and seeing little results. With one location getting as few as eight applications per week, she knew something needed to change.
Streamlined hiring process
QRC knew that if they wanted to get more candidates, they needed to make applying for their open jobs as easy as possible. With HigherMe, they set up a branded careers page, listing each location and their open positions. With job postings that are accessible from any device, candidates can apply from their phone or computer.
Shortly after signing up with HigherMe, QRC saw a 150% increase in the number of applicants they were getting, with 50% of those being qualified. With a streamlined hiring process, their application completion rate increased to 73%.
"One of my locations that is typically hard to staff had 66 interviews in one week right after signing up with HigherMe. It would normally take two months to get that type of traffic."
– Kristi W., HR Director, Quality Restaurant Concepts, LLC (QRC)
To update their in-store hiring practice of accepting paper résumés, QRC started using Text-To-Apply to get the attention of passing job seekers or current customers who already love the Applebee's brand. By texting QRC's unique code, APPLE, candidates can start an application straight away on their phone. In six months, QRC hired 21 new employees just from Text-To-Apply.
Simple tools for managers
Every application QRC receive can be viewed on HigherMe's Applicant Tracking System. Managers can easily review the applicant's availability, distance from the restaurant location, and screening questions. Identifying top talent is easy with HigherMe's automated FitScore – a score of zero to 100 for each candidate based on QRC's hiring criteria.
Previously, QRC managers were calling qualified candidates to schedule an interview, often spending three hours each day on the phone playing phone tag. With HigherMe, qualified candidates are invited to an interview using automated interview scheduling, saving managers time, reducing phone tag, and increasing QRC's interview show rate to 62%.
"Managers are spending an hour a day (rather than three or so previously) scheduling interviews and updating statuses on completed interviews. They're able to quickly schedule people and not have to cold call an applicant and play phone tag for a response to an invite."

– Kristi W., HR Director, Quality Restaurant Concepts, LLC (QRC)
Applebee's + HigherMe
QRC have been using HigherMe since 2018 to automate their hiring, which provides a better experience for applicants and reduce time to hire. Most importantly, by having an easy way to stay fully staffed at each location, QRC can focus on their mission of providing a great guest experience every time.
Save time hiring with tools made for restaurant businesses.
Watch a free demo now. Screen faster, play less phone tag, and increase interview show rates with HigherMe.

Contact us to learn more.