6h
Average of hours saved per hire
Attract more applicants without the stress of managing multiple job boards.
67%
Decrease in interview no-shows
Find the best candidates in a few seconds with automated screening and interview reminders.
$3.6k
Savings per location/year
Avoid staffing issues by interviewing and onboarding before the competition.
Everything you need to make hiring easy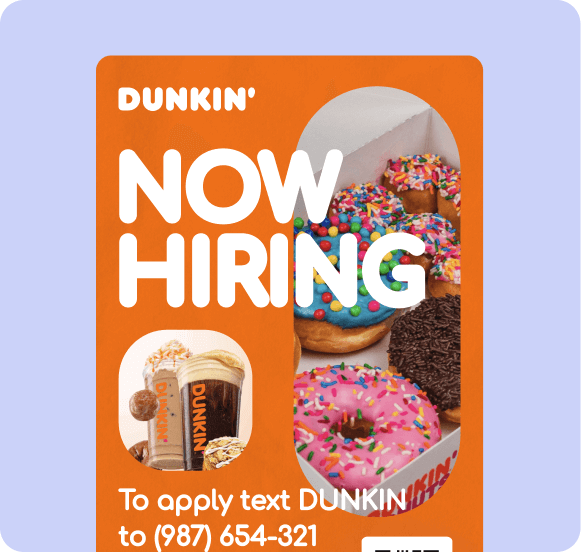 Text-to-Apply
Guests can apply for jobs with you by texting your custom number or scanning a QR code. From there, they'll be able to apply directly from their phones!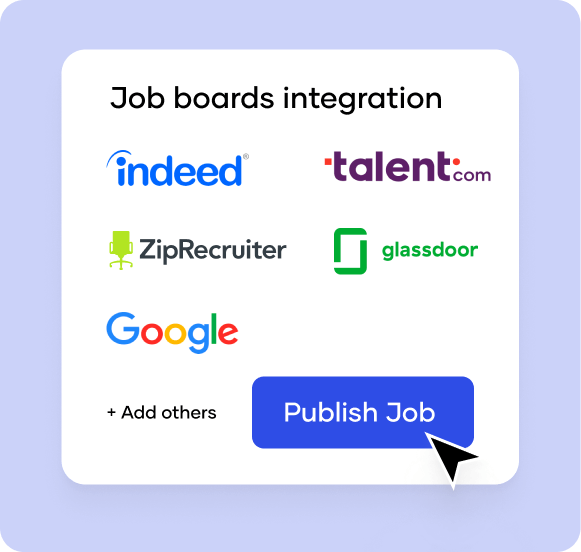 Job Board Integrations
Attract more applicants without the stress of managing multiple job boards. You can also post your job ads to Dunkin's Careers Page directly from HigherMe!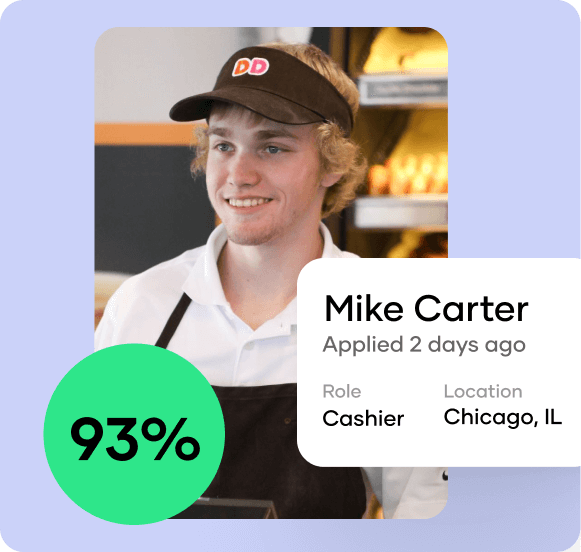 Automated screening
Find the best applicants by distance, availability, etc. Knockout Questions rejects applicants that don't meet your requirements.
One-click interview scheduling
Share your calendar with candidates and let them choose the best date and time for an interview based on your pre-determined availability.
Automated interview reminders
We'll remind candidates about an application they didn't finish or an upcoming interview with automated text messages.
Onboard new employees in <30 minutes
Easily have I9, W4, state tax forms, direct deposit information, employee handbook and E-verify checks all completed digitally before their first day. Get employees ready for payroll in < 30 minutes.
Hear from other franchise restaurant owners
"HigherMe offers a lot of flexibility and an outstanding level of customer service. The system is easy to use from the hiring manager's and the candidate's standpoint. It allowed us to boost our job ads easily, and the advantage of using solid analytics to understand our application flow is one of our favorite features. It's also easy to adopt and use!"
Chief People Officer at Bluemont Group. Dunkin' franchisee
"HigherMe has made the hiring process flawless. Everything you need on one website. No more checking multiple hiring sites. You can view applicants and choose whether you wish to contact & interview or decline. If you chose to interview and hire, they have made the onboarding process literally effortless. You send a link; they do the rest. This gives us much more time to focus on continuing to interview and hire."
"HigherMe is very easy to browse and we find applicants that fit our needs. HigherMe has helped us find the type of candidates we're looking for and the budget has a lot more value than Indeed for example. The Talent Pool is a great feature as well. I can do a better job tracking for those candidates who haven't been contacted. It's easy to navigate their website and make changes."
Book a demo
We'll contact you as soon as possible to better understand how we can help you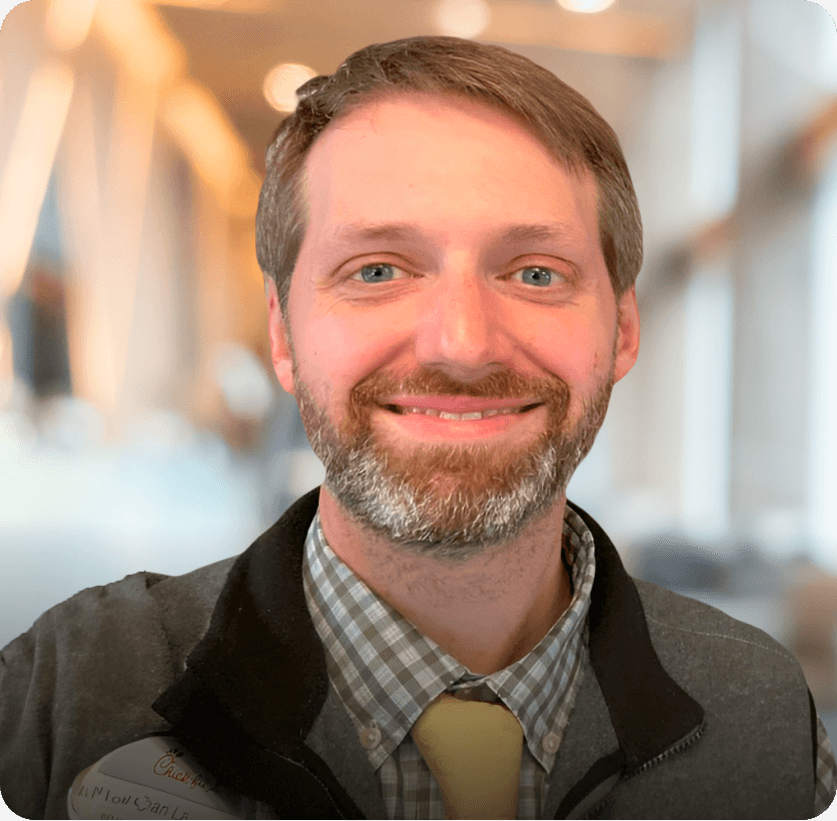 "Being able to depend on a consistent stream of applications without having to devote hours a week to recycling the same posts has revolutionized our HR workflow, saving me hours of labor."
Jonathan Lawrence
Operator, Chick-fil-A Bushriver
Book a demo
We'll contact you as soon as possible to better understand how we can help you