How to use Twitter for Recruiting: 7 Examples for Restaurants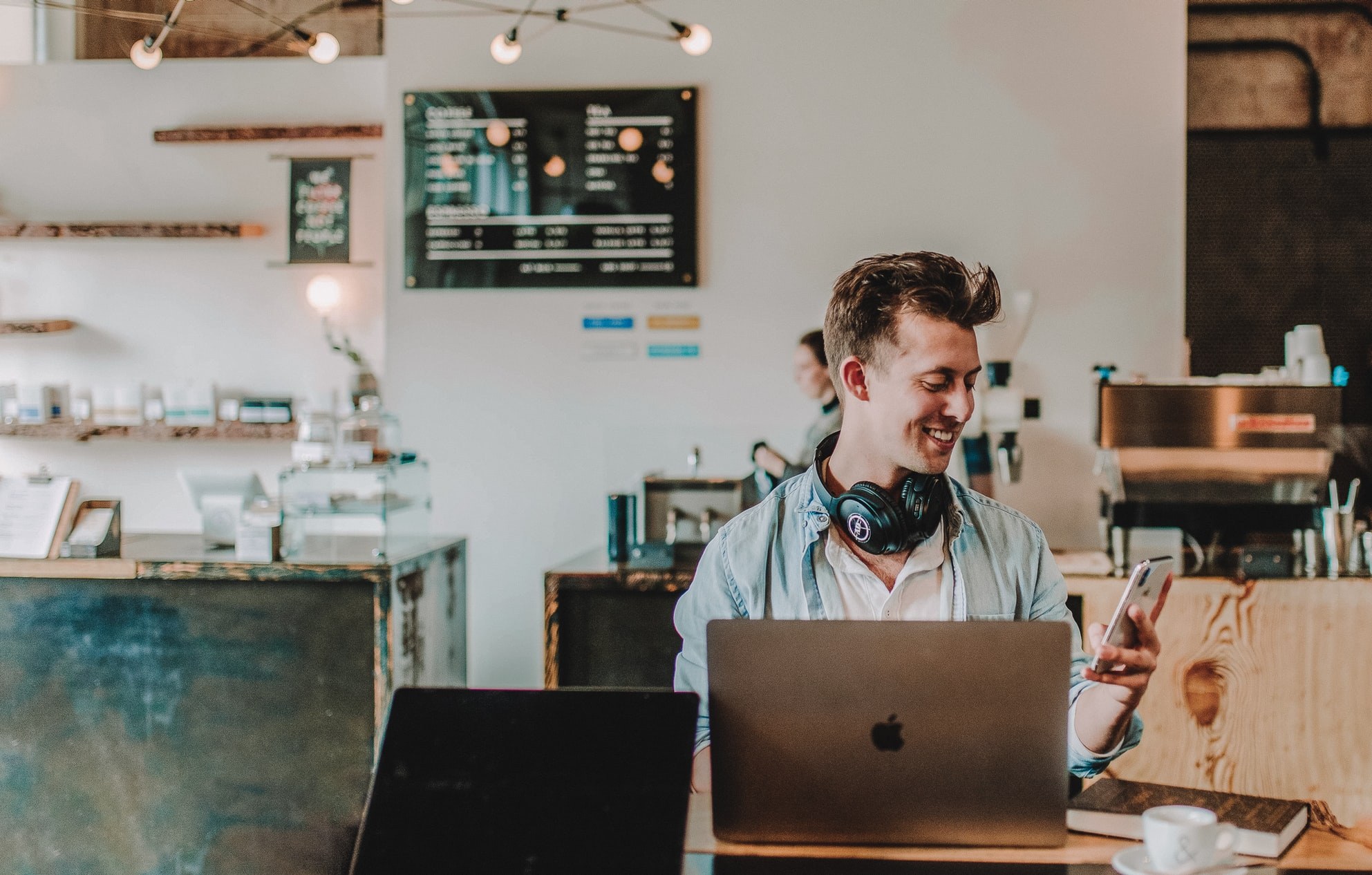 Restaurant brands are well known for their Twitter presence, from Wendy's helping to create the second most retweeted tweet ever, or this past summer's chicken sandwich wars between Popeye's and Chick-Fil-A.
While major chains often have a team of employees managing their Twitter account, smaller restaurant businesses can also have a strong Twitter presence simply by tweeting photos of new dishes, sharing employee of the month, running contests, or even posting open jobs.
Restaurant businesses who use Twitter for recruiting can promote jobs to current customers, find local employees, increase attendance at hiring events, and drive traffic to their business' careers page.
Being on Twitter doesn't necessarily create more work, as any content you share on Facebook can easily be shared on Twitter too – just make sure to keep it under 280 characters in length.
Here, we share our top tips and tricks for Twitter recruiting, and some of the best examples from restaurants.
Why restaurants should use Twitter for recruiting
1. It's free – Unlike paid postings on job boards, Twitter is free to use.
2. Get more qualified candidates – Your Twitter followers are already fans, and people who know and love your brand are more likely to be engaged employees.
3. Promote your open jobs in more places – In addition to being another channel to promote your jobs, ask for retweets from your followers or use hashtags that are popular in your area so even more people know you're hiring.
4. Showcase your brand – Using images, colours, and copy that showcases your brand's personality can attract candidates who fit in with your company values.
5. Attract younger workers – 45% of 18-24 year olds say they use Twitter, making it a great channel to recruit Generation Z.
Learn more: 4 Ways To Control Restaurant Labor Costs and Maintain Profits
Tips to successfully use Twitter for recruiting
- Be visual: use an image, video, or GIF to attract attention – tweets with GIFs get 55% more engagement.
- Have a clear message: mention the role(s) you're hiring, rate of pay, hours, and employee benefits.
- Have a strong call to action: let candidates know if they need to email a résumé, apply online, or come in-store and speak to a manager.
- Tweet often: a tweet gets most of its engagement in the first half hour, so you may need to tweet multiple times to source the number of candidates you need.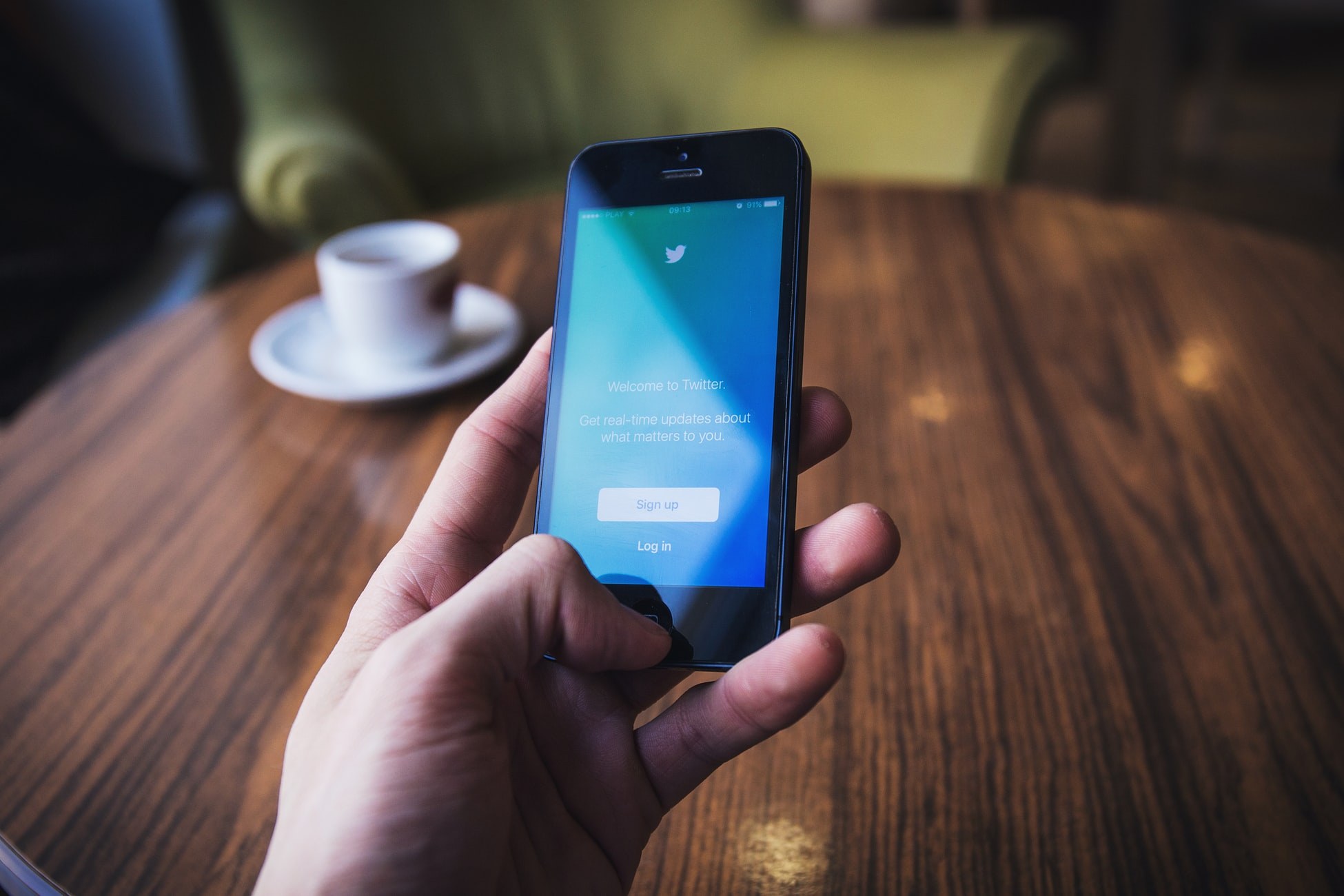 7 Examples of Twitter Recruiting at Restaurants
Need some inspiration? Here are a few examples of Twitter recruiting at restaurants across the USA.
1. Cheese Louise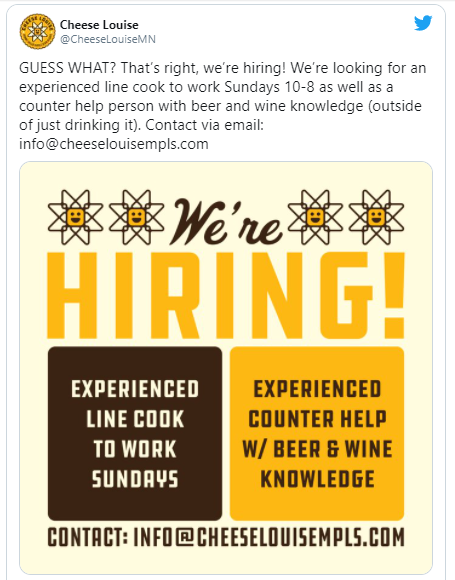 Grilled Cheese (and other delights) eatery Cheese Louise has an eye-catching Twitter feed that makes strong use of its brand colours. This tweet advertising two open positions is no exception.

2. Sexy Pizza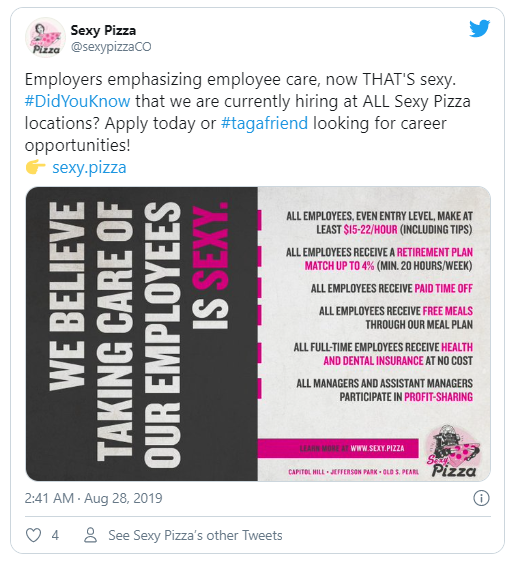 Sexy Pizza are combating employee turnover and enticing candidates to apply by offering a number of perks and highlighting them on Twitter.

3. State of Grace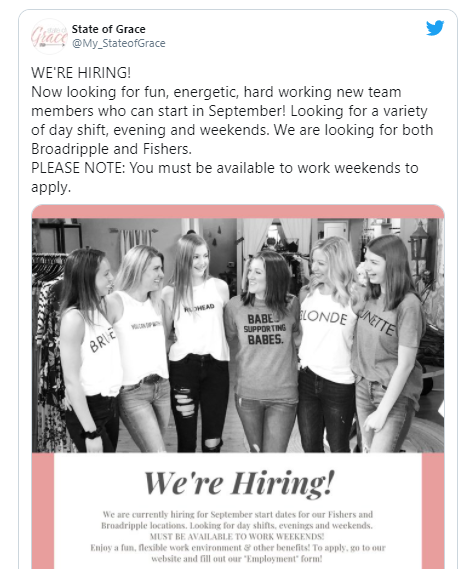 State of Grace gives potential candidates an idea of the team they'll be joining by sharing a photo of their current employees.
4. Angelo Dining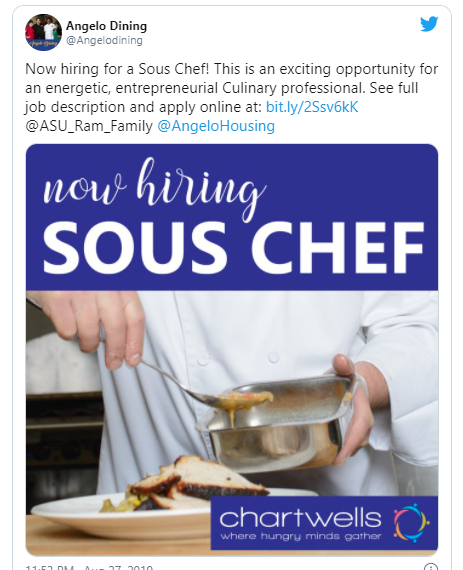 Including a link in your tweet that goes to an online job application is the best call to action, as candidates can apply immediately after seeing your tweet. Make sure your online careers page works on a mobile device so applicants can complete everything from their phone.
5. Books & Brews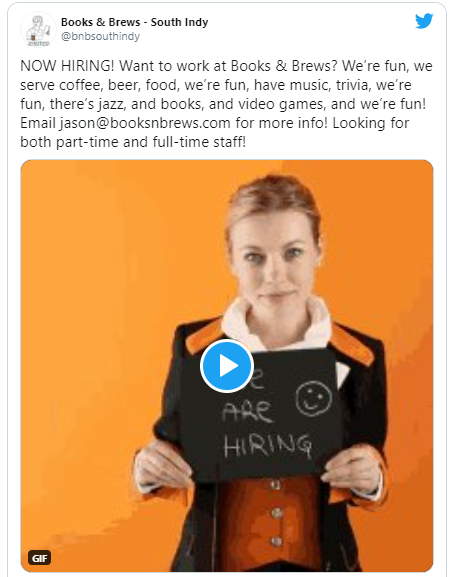 A bright, eye-catching GIF like this one used by Books & Brews can help your post get noticed and stop people from just scrolling by your job post.
6. The Fillmore Detroit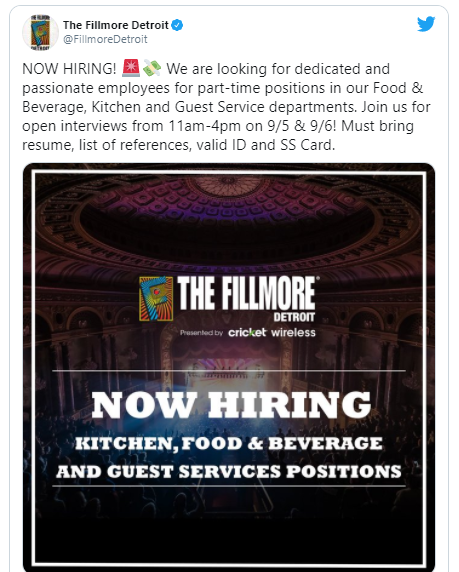 In addition to promoting open jobs, use Twitter to promote events like upcoming open interviews or a hiring party.
7. Pinthouse Pizza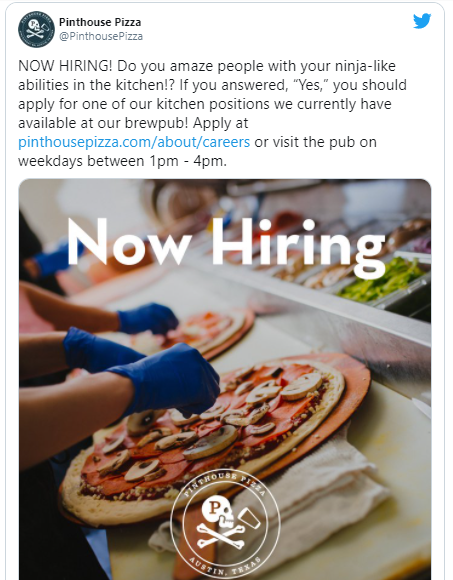 Including phrases like "ninja-like" isn't a good idea when posting on job boards, but can attract the right type of candidate on Twitter. Giving candidates the option to apply online or in-store can boost your number of applicants.
Want to post your jobs in more places? HigherMe gives restaurant businesses the tools to find, screen, interview, and onboard employees from anywhere on any device. Learn more.