How to Host a Hiring Party: 9 Steps to a Successful Recruiting Event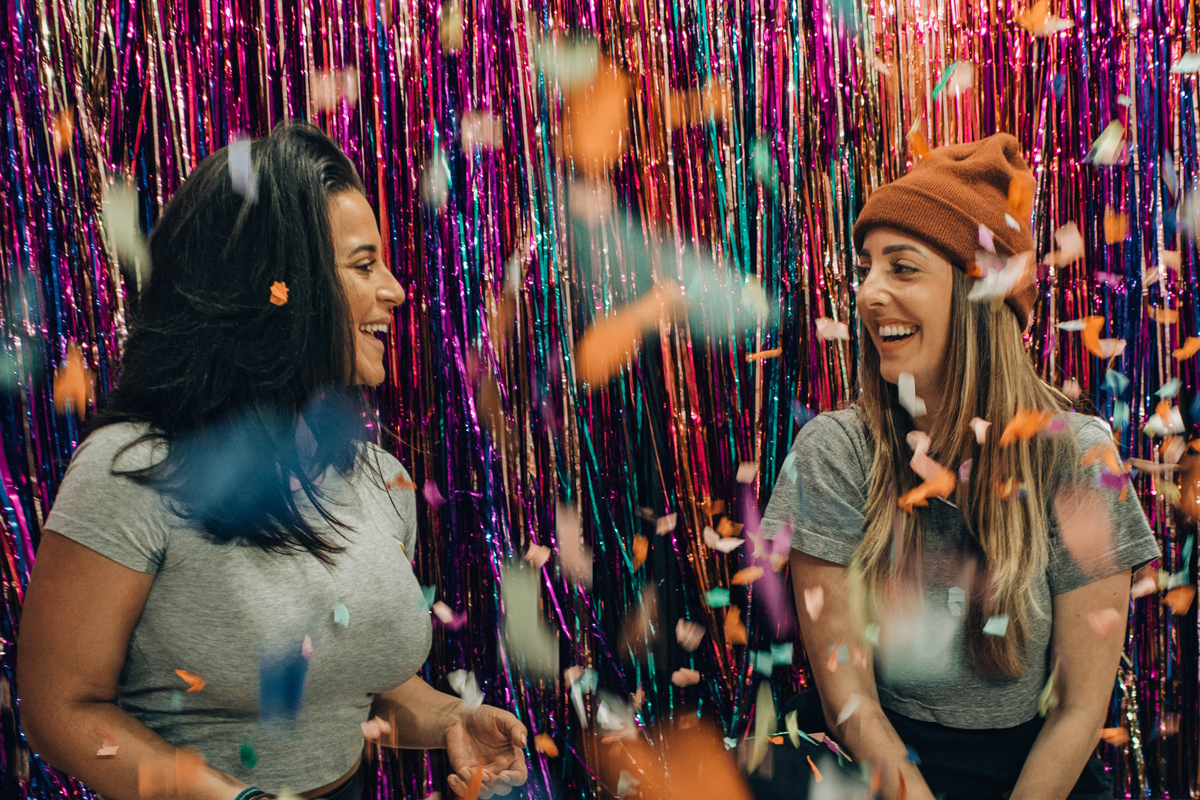 While most jobseekers turn to Google or Indeed to begin looking for work, moving your hiring strategy away from posting on job boards to throwing a hiring party just might get you more applicants.
Hosting a hiring party is a hot hiring trend, with top brands like Taco Bell and Shake Shack having "modern day job fairs" that are not only fun, but also a key part of their business growth.
After their initial "nacho average job fairs", Taco Bell reported nearly 75 in-person applications and 40 new hires. With their previous recruiting efforts seeing a hiring rate of 20%, the hiring parties saw 50% of applicants hired in just one day. With the events being such a success, Taco Bell rolled out the program nationally in 2019. Shake Shack has also seen success with their hiring parties: they hired 40% of the 60 attendees at events in Glendale and Hollywood, and 40% of the 150 attendees at the event in Palo Alto.
Hosting a hiring party at your business can help reduce time to hire, promote your brand to new candidates, and even get more applications online. We've put together a full guide on how to host a hiring party, with examples from top brands, so can learn from the best and host a hiring party that's successful for your business.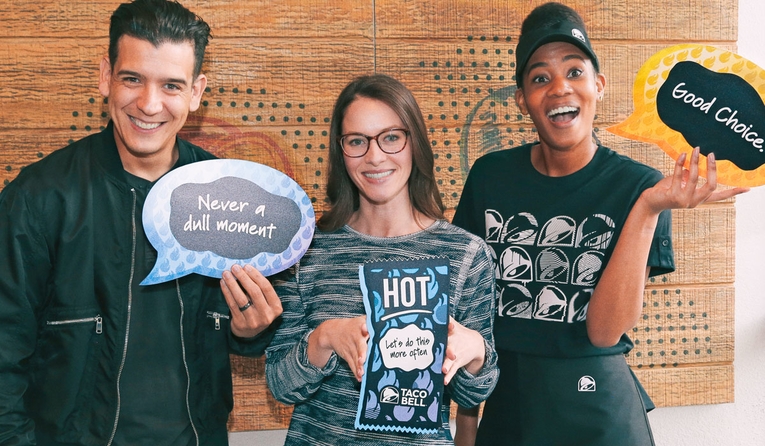 1. Entice applicants to attend your hiring party
You want to attract as many people to your hiring party as possible. Asking candidates to only bring themselves (no résumé required) will reduce friction and encourage more candidates to attend.
To further entice candidates, offer free food, prizes, or swag. Taco Bell offers free nacho fries and watermelon freezies in addition to door prizes, company swag, and gift cards as signing bonuses. For hard to fill roles, or a role that requires special qualifications, consider offering cash as a signing bonus.
A hiring party also needs to be different than a traditional recruitment event or job fair: decorate your space with balloons or a photo booth to keep candidates engaged throughout the party. Bonus: candidates who snap photos and share them on social media will be promoting your brand to their friends.
2. Choose a location
It's a good idea to host the hiring party in the location where candidates will be working, so they can get a sense of the job and workplace environment.
However, if you're hiring for the opening of a new restaurant or store that's still under construction, you may need to find another location. Partnering with another local business can be a great way to promote your event or attract candidates who wouldn't normally interact with your brand.
One Shake Shack hiring party in Charlotte, NC was hosted at local brewery Lenny Boy Brewing Co. and offered candidates free t-shirts, sunglasses, and beer koozies in addition to hiring cards for interested attendees. For an opening in Seattle, Shake Shack partnered with Butcher's Table to have them create a special burger using their ingredients and ordered coffee and donuts for dessert.
3. Pick a date and time
If you're planning on hosting the hiring party in your restaurant or store, pick a date and time that you know will be quiet. Hosting the party before your business opens or after you've closed means you won't have any interruptions. One Telus and Koodo store in a shopping mall recently hosted a hiring party for interested candidates once the mall was closed, so they could focus on their event.
If you want to host the hiring party during business hours, plan it for a weekday when there are typically less customers.
Offer multiple dates and times so candidates can attend a hiring party that fits their schedule.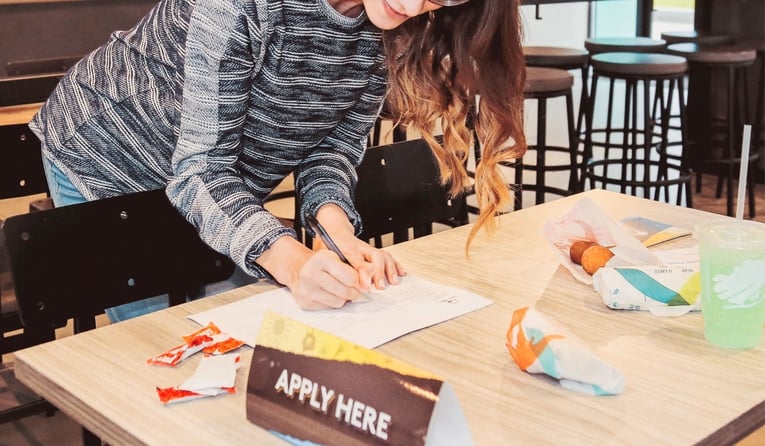 4. Decide your hiring party strategy and event goals
If you're a small business and do all the hiring yourself, consider how many interviews you could reasonably conduct during one hiring party. If your event is three hours, and each interview is ten minutes, then you'd be able to interview 18 candidates (without taking any breaks).
To quickly screen candidates, consider having applicants apply on the spot using an applicant tracking system and inviting candidates with the highest scores to have an on-the-spot one-on-one interview.
For smaller businesses, hosting a hiring party to promote your brand, source more applicants, and screen candidates would be a good hiring party goals. Once you get those applications, you can review them and follow up with qualified candidates after the hiring party.
For larger businesses that have a hiring team, management should offer on-the-spot interviews during the hiring party. A hiring team of three could conduct over 50 ten-minute one-on-one interviews in a three hour period, with qualified candidates being offered a job on the spot and given a hiring bonus. For a more relaxed event, have your hiring team speak to groups of candidates to screen and find the best ones, and follow up with them after the event.
Giving a short presentation or product demonstration at your hiring party can also help identify top talent: candidates who ask questions about your brand or are passionate about your products would be more engaged employees. Cosmetics brand Lush have current staff demonstrate their products at hiring parties, then ask candidates to showcase what they learned by having them give a demonstration back to staff as part of the interview.
Hosting a hiring party is also good for brand awareness and letting your community know that you're hiring: after the first Taco Bell hiring parties in Indianapolis, two locations had 75 applications in person, and over 300 applications online.
5. Promote your hiring party
Create a poster for your hiring party that has the following details:
Date
Time
Location
What applicants should bring (résumé or just themselves)
Event details such as free food, on-the-spot interviews, or bonuses
How to RSVP
Ask candidates to RSVP so you know how many guests to expect, and can plan how many managers to schedule that day (especially if you're conducting on-the-spot interviews), and how much food to have available.
Start promoting your hiring party three weeks before the event, and target your advertising to your target candidate audience. If distance from your location is important, promote your event in-store with posters and table tents so current customers can apply. If you simply want as many people as possible to attend, send out flyers in your neighbourhood or in an email newsletter. If you're looking to hire teenagers (or Generation Z) you'll want to promote your hiring party on social media like Instagram, Snapchat, TikTok, or Twitter.
6. Schedule your staff
In addition to managers who will be conducting interviews, schedule some of your most engaged staff to greet candidates, engage them in conversation about the job, and time each interview with a stopwatch so you stay within a ten-minute time frame.
If you'll be offering jobs on the spot, have a staff member ready to onboard employees straight away or send them an onboarding package via email.
7. Set up your space
Remember to keep the 'party' in hiring party: set up decorations and balloons so your restaurant or store looks more celebratory than usual. A photo booth, colouring sheet, or quiz cards (pictured below) can help candidates stay engaged, especially if they're waiting for an interview.
If applicants are filling our paper applications at the hiring party, make sure you have enough tables, chairs, and pens. If applicants are using an online application system, provide the wifi password or even a few laptops or tablets for candidates who might not have their own device.
If you'll be giving a presentation or product demonstration at the start of the hiring party, have a projector set up or products ready at hand.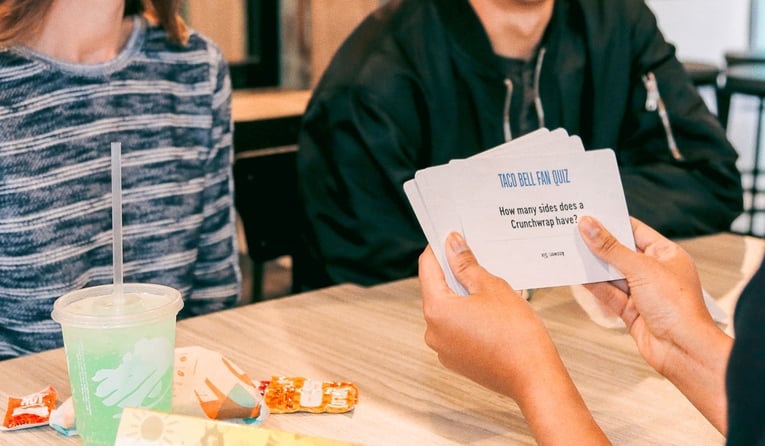 8. Meet your candidates
Since you've defined your hiring party strategy and event goals (in point #4), you'll know what you should be doing on the day: one-on-one interviews, conversations with groups of candidates, or encouraging as many candidates as possible to complete an application (and enjoy the party).
If you're conducting one-on-one interviews, make sure you have staff who are timing those interviews and also organising a schedule or line for qualified candidates. If you're offering jobs, have your signing bonuses (like gift cards) ready at hand.

9. Follow up with applicants after your hiring party
After the hiring party, contact all applicants and thank them for attending. As a thank you, send a coupon for a discount or free item on their next visit.
Review your applications as quickly as possible. If candidates brought in résumés to apply or completed a paper application, read them as soon as possible and contact qualified candidates. If your candidates applied using an applicant tracking system, review their scores and send out interview requests via email and text.
If you offered jobs on the spot, follow up with your new hires to submit their onboarding paperwork and background checks.
Finally, congratulate yourself and your team on hosting a successful hiring party!

To learn more about HigherMe's hiring software solution, watch our 5 minute demo video or request a demo here.