6 Really Cool Features of HigherMe's Talent Pool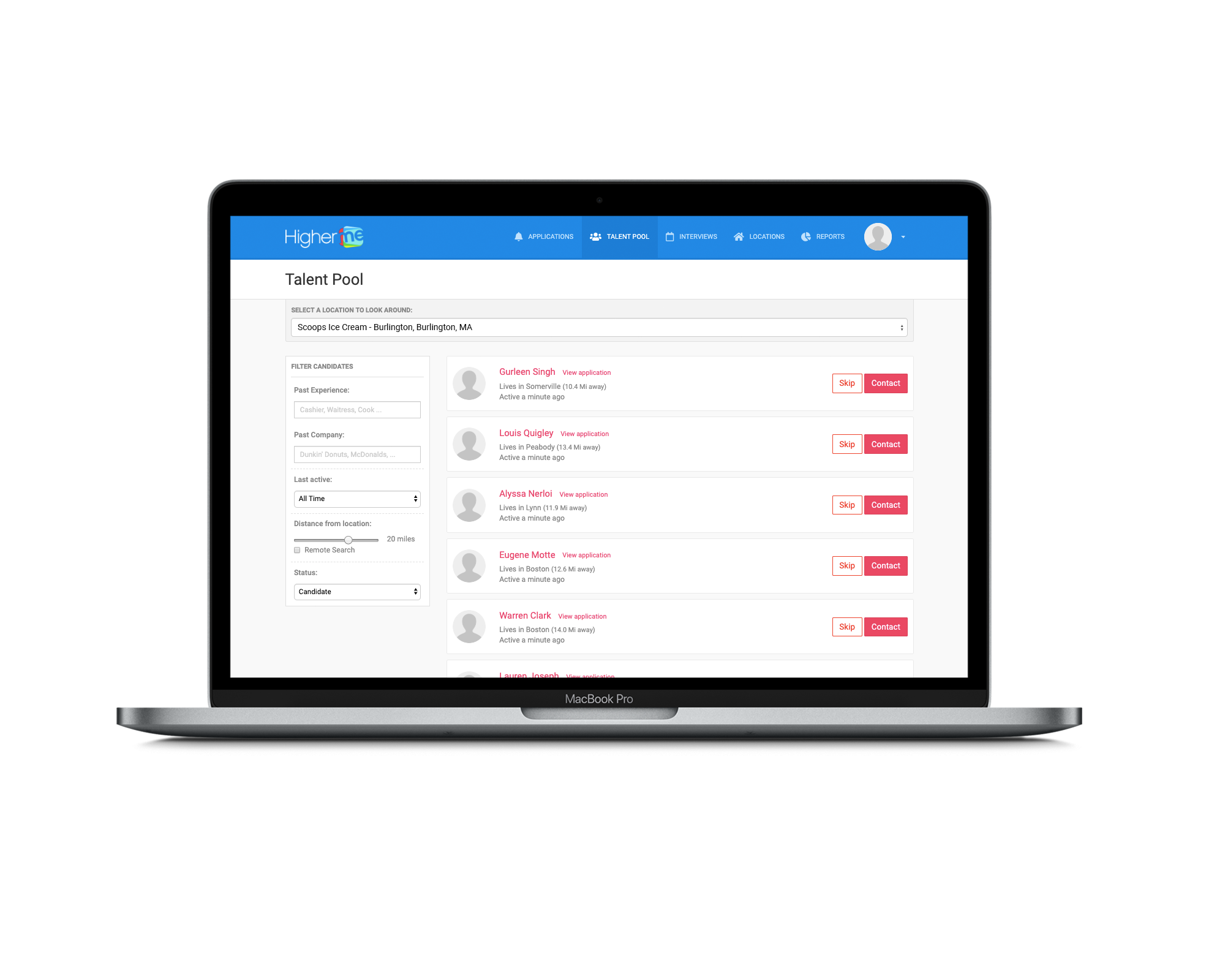 Did you know there's a simple and effective way to connect with active job-seekers in your area?
If you're looking to boost your recruitment efforts, HigherMe's Talent Pool is a fantastic way to do so. No more playing the "waiting game" hoping the right applicants find you – this tool allows you to reach out directly to qualified candidates and extend an interview invitation.
Learn more below about all of Talent Pool's amazing features.
Want to learn more about Talent Pool? Connect with our team today: sales@higherme.com
Location-based sourcing
By adjusting your search settings, you can be sure to find the best-qualified job seekers in your chosen area. Looking to hire for more than one location? Adjust the specifications easily to suit your needs.
Qualified candidates
With the ability to filter candidates based on specific skill sets and past experience at a specific company, you're already short-listing a ready-made pool of qualified candidates who are active and waiting to be hired.
Automated interview scheduling
Save valuable time by automatically scheduling interviews with HigherMe. With a simple click of a button, an email and text message will be sent to your chosen candidate, letting them know you're interested in connecting about your open position.
Text-message communication
Did you know that by utilizing text-messaging when hiring, job-seekers are more likely to return your messages sooner? This speeds up the hiring process, ultimately reducing candidate turnover and increasing the likelihood of them accepting your position if offered.
Save future candidates
If you're not ready to hire just yet, don't worry – Talent Pool is great for building a pool of candidates for any employment opportunities down the road. By regularly checking in on Talent Pool and connecting with talented job-seekers, you can establish a professional relationship and mark them as a "future candidate."
Review before you contact
Talent Pool gives the employer the opportunity to view a candidate's full profile, including work experience, education, and shift availability before extending an interview invitation. You can even view their video cover letters, which are a great way to gauge their personality and fit within your team.
Interested in learning more about Talent Pool? Connect with one of our representatives at contact@higherme.com, or explore our other hiring solutions on the HigherMe website.