Free Text-To-Apply for businesses hiring essential workers during COVID-19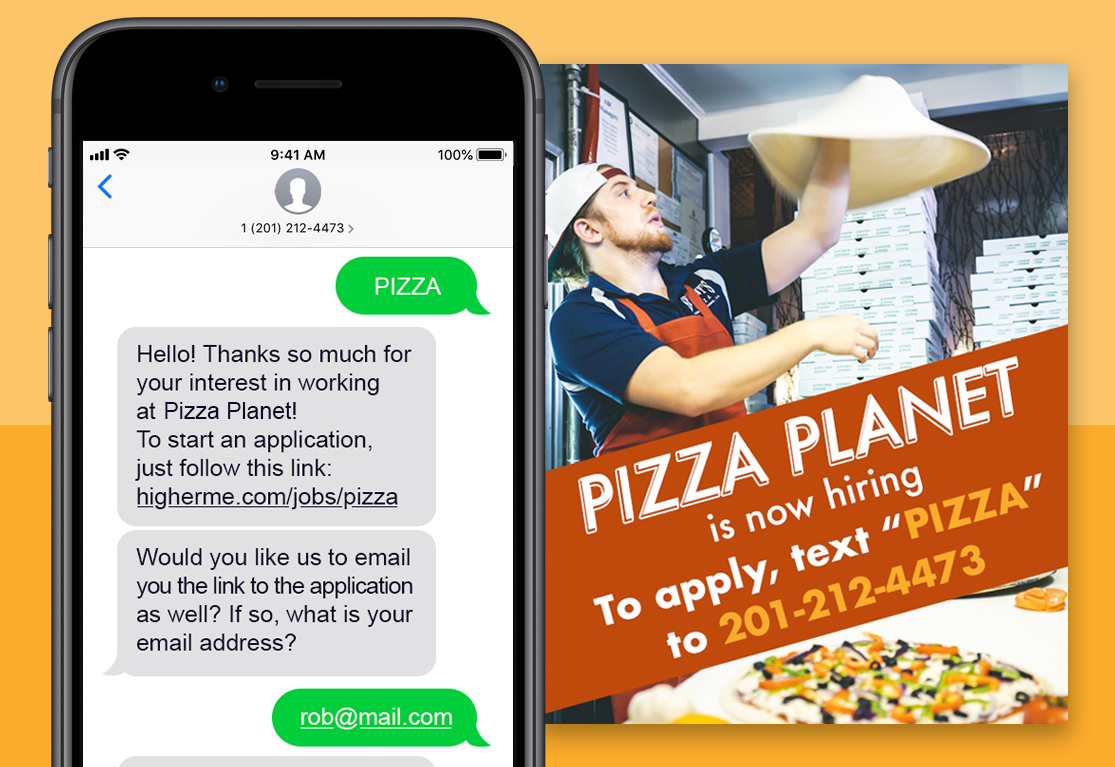 HigherMe's free Text-To-Apply promotion ended on August 31, 2020. Learn more about Text-To-Apply here.

To help restaurants, grocery stores, and retail pharmacies hire essential workers during COVID-19, HigherMe's Text-To-Apply is available for a 90 day free trial.
With Text-To-Apply, you can source candidates that are higher quality than traditional sourcing channels, bringing in applicants who are 8x more likely to be your next hire.
It's also the easiest way for job seekers to start an application, as they can begin applying with just a simple text message.
Here's how it works:
1. Sign up now for free – no credit card required.
2. We'll design a custom poster with your logo and brand colours.
3. We set up your unique Text-To-Apply phone number and keyword.
4. Job seekers text your unique keyword and phone number to immediately start applying from their phone.
Text-To-Apply gets you applications from local job seekers who can easily make the commute to work or loyal customers who already know and love your business. It's also great at attracting candidates in the Millennial or Generation Z demographic. As A&W Franchisee Cathy Torpey explains, "It's quick and easy: they text, get an application back, fill it out on their phone, and the application goes right to the store. We've had successful applicants through Text-To-Apply. It's easy to use and it's increased interview show rates."
"We've heard from a number of businesses that they're still hiring for roles like cashiers or delivery drivers, and they need those roles filled fast," said HigherMe CEO Derek Williamson. "So we wanted to do what we can to get them the applicants they need quickly."
If you're still hiring during COVID-19, HigherMe is here to help. Sign up for free Text-To-Apply today to start getting quality candidates and provide a simple candidate experience.
To get a full overview of HigherMe in just 5 minutes, watch our demo video.