Free and Inexpensive Employee Benefits To Retain Staff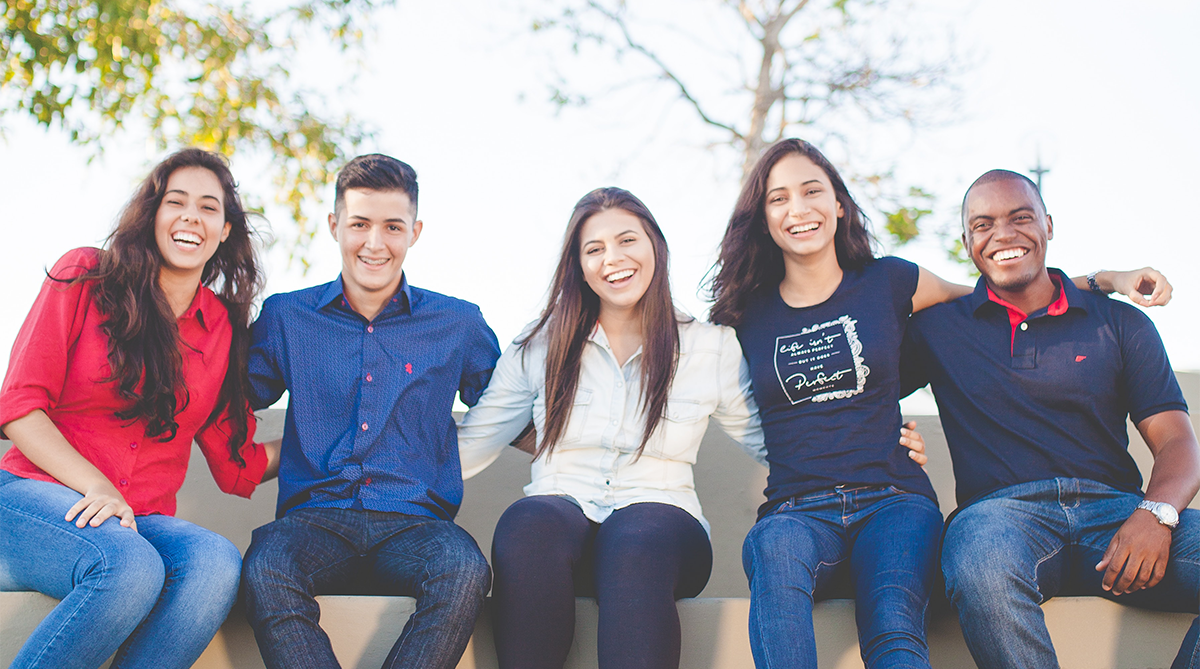 A great business comes down to its people. If your employees are happy working for you, that will show in their interaction with customers, driving up sales and repeat business. They'll also be less likely to quit, and more likely to recommend your business to a friend – one of the most powerful, and cheapest, ways to source candidates.
In 2019, brands like Starbucks, Chipotle, and Sweetgreen rolled out benefits like tuition assistance, mental health care, maternity leave, financial wellness tools, and cash bonuses.
Small business owners with fewer resources and tighter budgets often aren't able to offer the same employee benefits to retain staff as larger brands. However, there are a number of free or inexpensive options that go a long way to reduce turnover and keep your employees happy and engaged.

Here's a list of employee benefits to retain staff that you can start implementing today, at little to no cost for your business.
1. Give staff recognition
Cost: Free
Sometimes giving praise by saying a simple "thank you" or high five can go a long way to keep employees happy and engaged. In a report from 7shifts, every type of employee – regardless of age, role or pay – indicated that more recognition from management would impact their workplace satisfaction. One Globant report found that 24% of workers revealed they left their last job because they felt unappreciated.
While recognizing employees with a pay bonus was favoured by 67% of restaurant employees, 38% stated they wanted a public kudos, and 32% wanted a promotion. No matter how you give your staff recognition, make sure to show appreciation for their hard work on a regular basis and communicate your praise effectively.
Giving employee recognition doesn't only show you support them in the workplace, but also shows you genuinely care about them as people. Employees who feel cared for is good for business, with 60% of workers who said they felt cared for stating that they plan to stay with their companies for three or more years.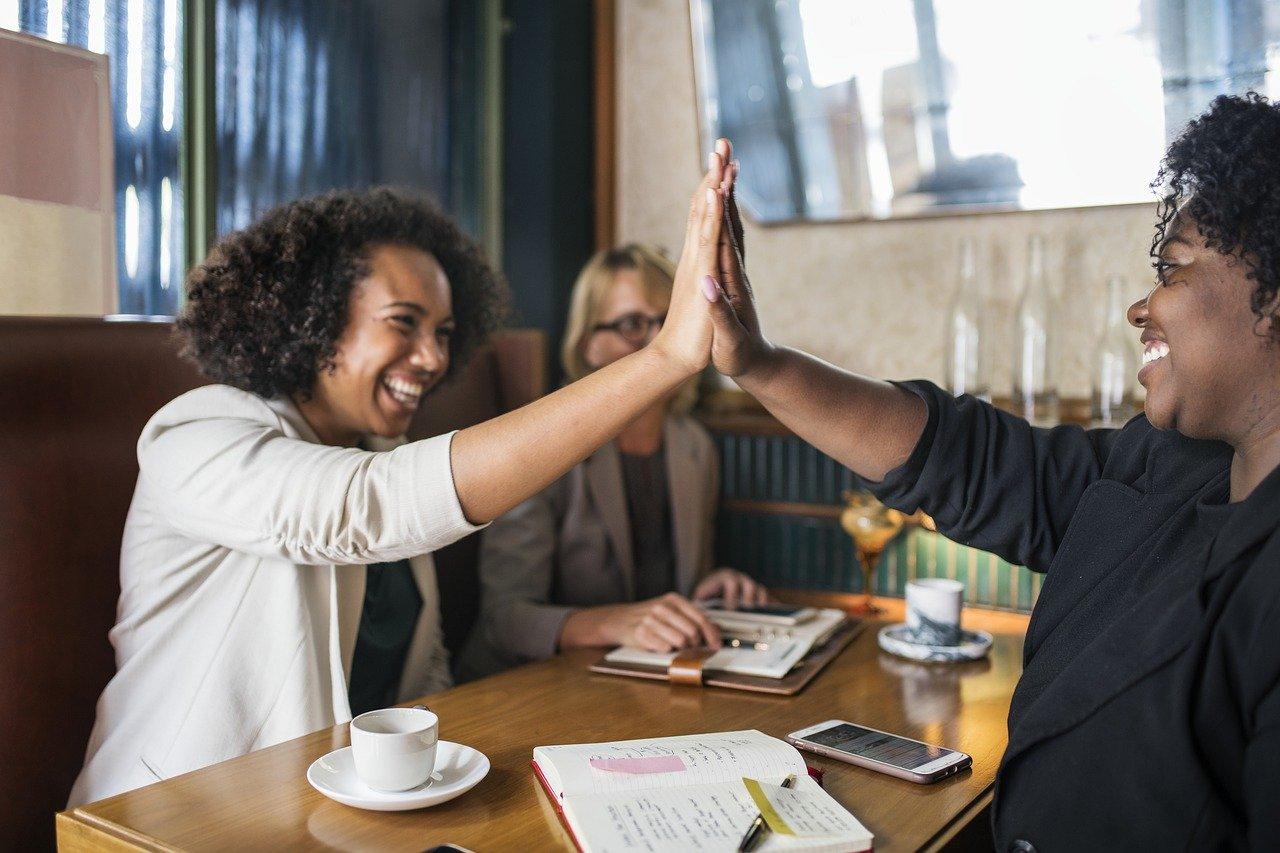 2. Flexible schedules
Cost: Free
If you can't find an employee to work a certain shift, you'll often end up working that shift yourself. Instead of scheduling your employees around the shifts you need, why not schedule your shifts around the needs of your employees?
Many people may be hesitant to enter the workforce because they have scheduling constraints, such as parents who have childcare obligations or students who are in class 20 hours a week. Being open to creating a flexible schedule can help you source talent from these groups, who are often overlooked.
Offering flexible schedules will also benefit workers who have to commute far for work. Data shows that 38% of workers rejected job offers because of the employer's location. Creating flexible schedules that allow employees to commute during off-peak times, fewer days a week, or even catch a bus that's most convenient for them, can be benefits to retain staff.
Offering a flexible schedule will make your business look like a more desirable place to work, and also increases productivity and employee happiness. Being fully staffed will make each shift more enjoyable for those working, and happier employees means happier customers who will return again and again.
Really in need of filling a shift? Consider offering shift bonuses for those hard to fill slots.
3. Four day work weeks
Cost: Free
Shake Shack implemented a four day work week pilot in March 2019, where managers get the same pay, but have their 40 hour work week condensed from five days into four. Eight months after the initial pilot, Shake Shack announced that four day work weeks are now in one-third of their restaurants and has helped to retain and recruit store managers.
Offering a four day work week can also help attract and recruit employees who are hesitant to enter the workforce. Shake Shack CEO Randy Garutti says the policy has been effective at recruiting new mothers: "I have had some new moms in the company come to me and say I have [to pay for] one less day of childcare. I have one less commute, this is amazing."
If managers are one of your toughest roles to fill, this may be one workplace benefit worth offering to help them stay employed with your company longer.
4. Employee of the month
Cost: $
Recognizing one staff member for a job well done each month can motivate staff to go above and beyond in their role. While giving out gift cards or cash bonuses to one staff member each month makes winning that much sweeter, offering other incentives like an extra day off, catered lunch, a cake, or control of the music during their shift can also show employees you recognize their hard work.
The recognition doesn't always need to come from you and your management team – Noodles & Company has a "Super Noodler" honor, which is peer-nominated and given out monthly in addition to a consistent recognition board at each location.
Highlighting your top employees on social media is also a great way to attract talent, with 9 out of 10 candidates saying they would apply for a job when it's from an employer brand that's actively maintained. Chick-fil-a in Weslaco, Texas feature a top employee every week on Twitter with the hashtag #TeamMemberTuesday to really show how much they care about their employees.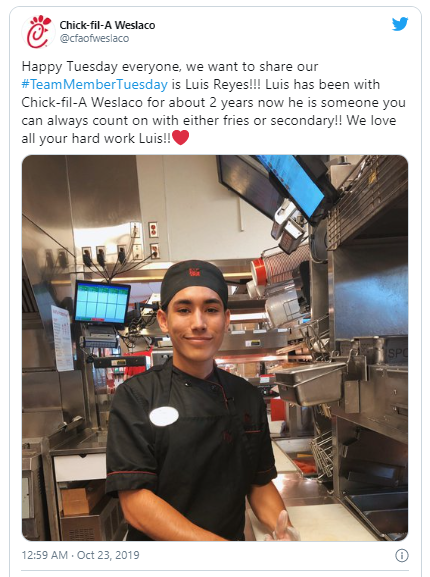 5. Manager training program
Cost: $$
When many employees start out in the restaurant industry they don't see it as a career, they see it as a job. But there are so many opportunities for those who are passionate about hospitality, hardworking, and creative. Giving your staff a clear path to continued success will give them a greater sense of job security and purpose at work.

One Qdoba franchise has workers who stay with the company for 10-plus years, in part because they promote from within whenever possible. Their "Future Leaders Program" is a six-month program that gives shift leaders the opportunity to work closely with executives to learn the nuances of the business.
To properly train staff at every level and help them grow, Sweetgreen has a mobile training app that gives employees full insight into their career development path and growth progress. Once a module is completed, employees can redeem their points earned on Sweetgreen swag, and also become a captain on a certain topic. Captains earn stripes, and employees who are a three-stripe captain can move up in the company, progressing from team member to manager.
To create a successful manager-in-training program at your business ensure you set goals, give employees insight into the process, and reward them when they reach certain levels.
6. Mental health box
Cost: $$
Service employees who rely on tips are more susceptible to depression and stress than other employees. To be aware of how your employees are feeling, consider giving them a way to let you know their mood before each shift.
One easy way is to have a "one word check-in" at the start of every shift, where each employees gives a one-word answer for how they're feeling that day.
Mulvaney's B&L restaurant in Sacramento gives employees an easy way to check their mental health before each shift: they can choose a card in red for angry, green for happy, yellow for OK, and blue for sad, and place it in a box.
Restaurant management review the box throughout the day and count the number of cards in each color to have an idea of how employees are feeling during their shift.
Having a mental health box can help employees stay healthy mentally and also creates a culture that reduces the stigma of talking about mental health issues.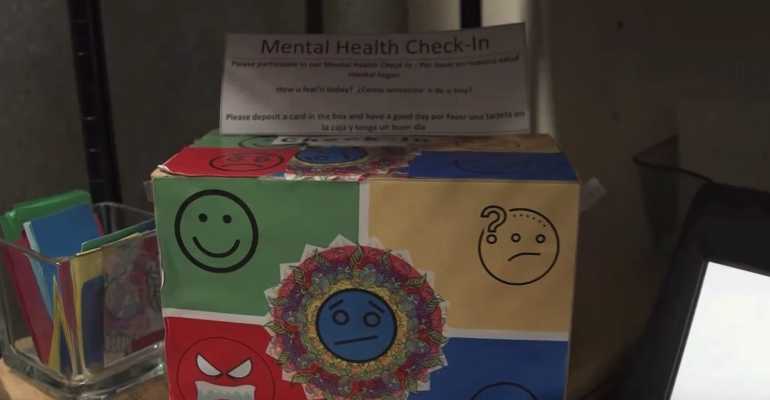 7. Refer-a-friend program
Cost: $$
In this labor market, finding employees is currently one of the toughest challenges for a business owner. While you may be using multiple sourcing channels such as job boards, social media, accepting applications by text message, and your own company website, getting a referral from a current employee is one of the best sources to find new talent.
Only employees who feel appreciated and happy at their workplace are likely to recommend your business, which is why it's key to build a strong company culture. In a survey, 90% of employees who felt cared for at work said they were likely to suggest their company as an exceptional place to work.
To encourage your employees to refer their friends, consider setting up a formal referral program. Staff who recommend a friend that is hired and works at your business for 30 days gets a bonus in the form of cash, extra days off, or a prize. While this bonus may come at a cost to your business, it may end of being cheaper than sponsored posts on Indeed or other sourcing activities.
8. Employee onboarding program
Cost: $$$
Having happy employees starts even before their first day of work. First, you need to make it easy for applicants to apply to your open jobs, and that means having an application that works on a phone. With over 70% of applications now being completed on a mobile device, if you're still using paper applications, email attachments, or an outdated website for your hiring, you could be creating a frustrating experience for candidates (who may not even finish applying).
Once you've hired your new employee, you want to make sure you don't lose the great talent you just found. Sending an employee their onboarding package via email means they can complete all mandatory forms and documents before their first shift.
Paperwork isn't the only part of onboarding – it's critical to make employees feel supported in their new role so they can succeed. Create a list of tasks for employees to learn in their first 30 days, and be sure to give feedback and let them know how they're progressing. White Castle has an onboarding program called First 30, which takes crew members through critical tasks in not only the first 30 days, but also the first 30 hours. After that, managers work with employees to map out the next steps of a growth plan.
9. Team building activities and events
Cost: $$$
Working a shift can be hectic, and doesn't leave a lot of time for your employees to get to know each other. If employees don't feel close to each other, it doesn't foster good team building, which often leads to bad culture, an unhappy workplace, and high turnover.
In a 7shifts survey, 50% of employees of reported not having any team building activities where they worked. However, 60% of staff think more team building events and activities are essential to improve their workplace happiness, and another study found that 62% of employees want to strengthen their relationships in the workplace.
You can plan events (even virtual ones) around staff birthdays, work anniversaries, or cultural celebrations. Events can be planned outside of the workplace or work hours, but planning celebrations to happen during work hours is also valuable to building your company culture. Consider little things you can do: like having a silly birthday hat for employees to wear, or letting them choose the music that's played during their shift when it's their work anniversary.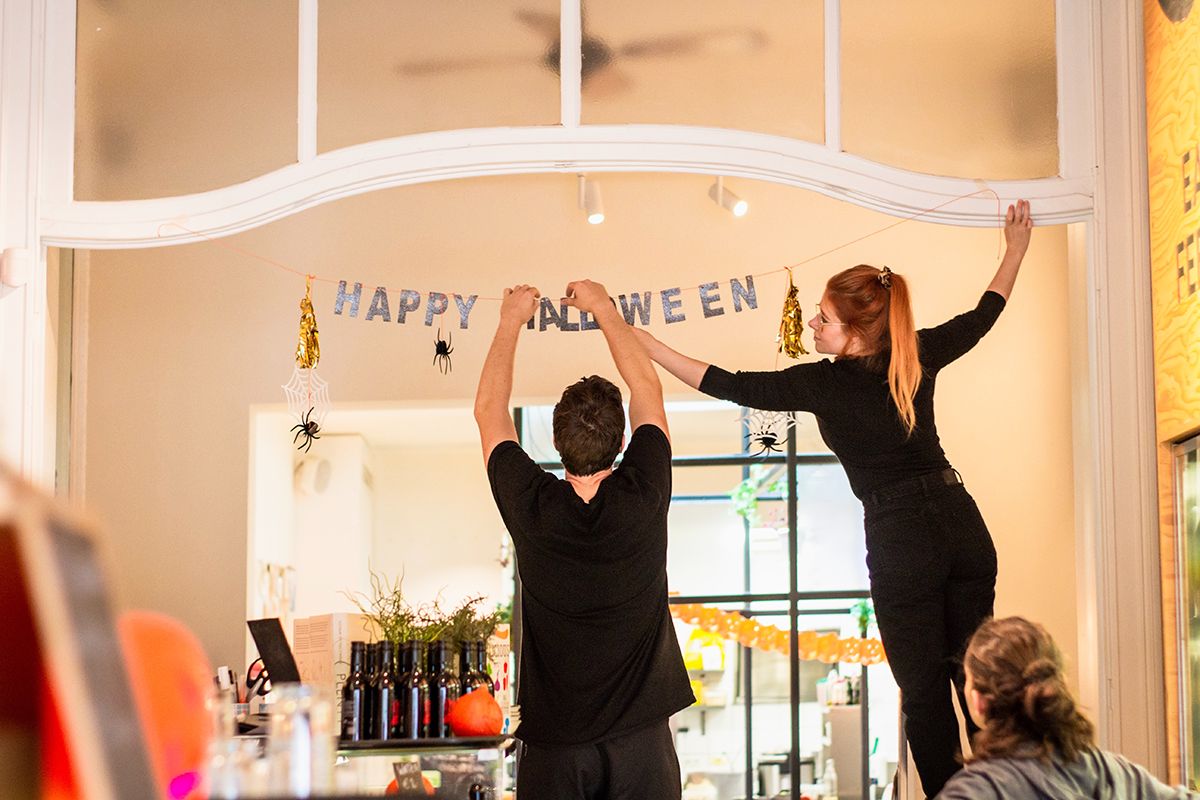 10. Staff meals
Cost: $$$
While "there's no such thing as a free lunch", offering a meal to staff on shift can help them stay healthy and focused at work. It's also a great perk that will grab the attention of job seekers.
While offering staff a free meal does come at a cost to your business, you'll easily see the return it brings by fostering a positive work culture: staff don't have to worry about packing a lunch or spending their wages to eat during a shift, and can instead come to work less stressed, more focused, and ready to serve guests. Offering free meals shows that you have a culture of caring about your employees.
If your business can't afford to offer a free meal every shift consider having snacks available, limiting free meals to once a week, or offering meals on your busiest days of the year as one of your employee benefits to retain staff.
Conclusion
Building a strong workplace culture is key to business success: it means more motivated employees, less turnover, increased productivity, and higher profits. Your business' culture comes from what your business stands for, and your employees are the key to showcasing those values.
In today's labor market, employees can be particular about where they work. The benefits to retain staff that you offer can set your workplace apart, and help reduce turnover.
The next time you're hiring employees, think about the benefits you would have wanted when you started working, or how you can support your employees to be their best selves. Starting with small initiatives that can easily fit into your business' budget will go a long way to help tackle staff turnover.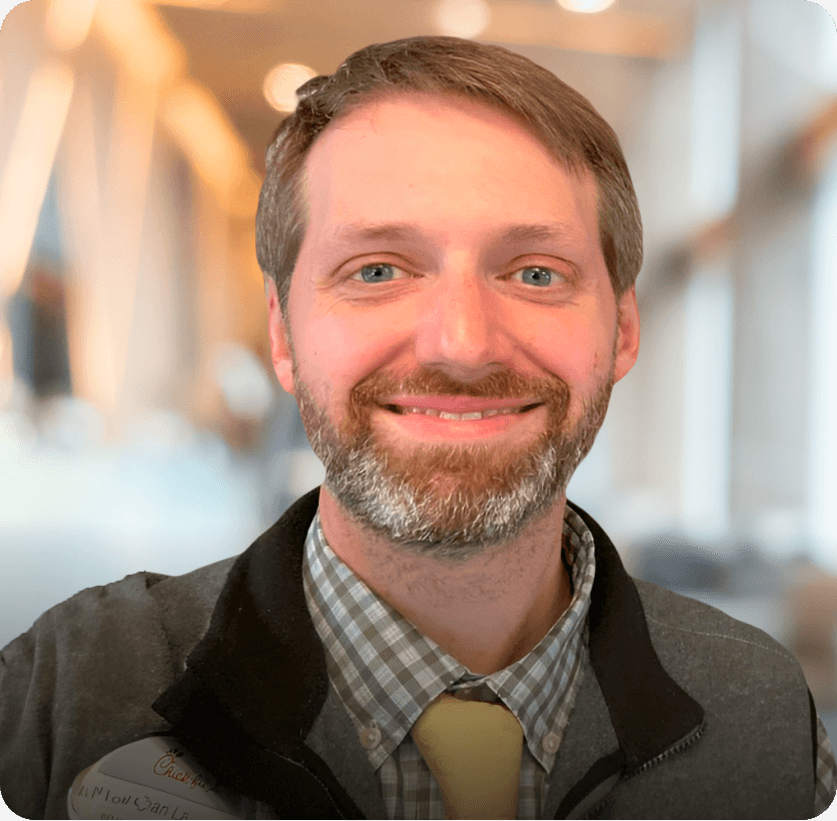 "Being able to depend on a consistent stream of applications without having to devote hours a week to recycling the same posts has revolutionized our HR workflow, saving me hours of labor."
Jonathan Lawrence
Operator, Chick-fil-A Bushriver
×
Book a demo
We'll contact you as soon as possible to better understand how we can help you