3 Qualities of a Great Job Listing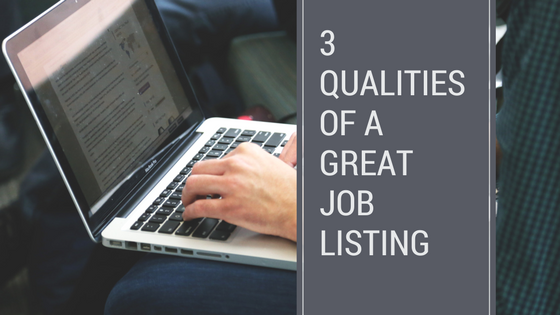 The key to any great job listing is providing the applicant with information that makes them want to work for you and apply to the position. Why do you love working at your company? Why should anyone else? This is what you have to answer in your job listing. Whether it be opportunities for growth, or the team you've helped foster, you want to make sure that any potential superstar employee not only sees your ad, but wants to apply to your jobs.
There are three top factors that every great job listing has. And the most important part of this is that they must be specific to YOU!
1. Benefits
Every person looking for a job wants to find a job that makes them happy, and offers them the best possible compensation and benefits. One common mistake in the industry is thinking that benefits have to be expensive- like healthcare or paid time off. But it doesn't! Benefits are anything that you do to make employees feel satisfied, valued and appreciated at your company. If you have an awesome team of people, promote from within, or offer wages above the minimum wage (even if it's only by a few cents).
Mentioning the benefits in your job listing can set you apart from other employers because not everyone offers these and, more importantly, not everyone highlights it to applicants.
2. Focus on what makes you, as a company, special
Every single employer has something special to offer their team. What makes you unique? What are you doing that makes your employees happy? Why do you love working for your company? Happy employees mean less turnover, and less money wasted on bad employees.
If you can highlight upfront what it is you do that others don't, and why you're a great company to work for, you'll attract candidates who value those same qualities.
3. Fun and Upbeat Writing Style
The writing style of your job posting can go a long way in attracting the best candidates. It is important to get applicants excited about the role from the day it is described, and by doing so, more candidates will be intrigued by the position and this will result in an increase in the number of applicants.
When you're writing a job listing, you must sell the position to the applicant. Having an upbeat writing style is critical to this. So before you sit down in front of the computer to write a job description, think about all of the positive aspects about working in that role, and get excited to share it with your future candidate!
Here at HigherMe, we have a team of best in-class recruitment specialists who can help with creating, scheduling and optimizing your recruitment ads to get you the most tailored candidates according to your needs.
Do reach out to us at contact@higherme.com if you'd like to learn more about how we can help you scale your hiring needs.